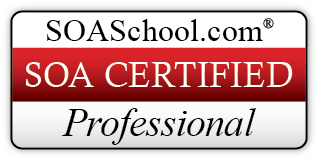 Pearson IT Certification, SOASchool.com®, and Arcitura Education Inc. have partnered together to provide IT professionals with the training and tools necessary to prepare for industry-standard SOACP exams and certifications through the MyITcertificationLabs product line.
Each of the MyITcertificationLabs packages are comprised of a specialized training bundle that contains hard copies of official course and exam preparation materials from the SOA Certified Professional (SOACP) program, along with access to electronic versions of all materials and complete text books via Pearson's MyLab online learning and assessment system. These bundles provide the specialized training required to prepare for individual SOACP course exams and the following certifications: Certified SOA Professional, Certified SOA Architect, Certified SOA Analyst, Certified SOA Consultant, and Certified SOA Security Specialist.
To obtain certifications, SOACP exams particular to each specialization need to be completed with passing grades. Some exams provide credit toward multiple certifications. All exams are available worldwide via Prometric testing centers. The best starting point is the MyITcertificationLabs: SOACP Fundamentals package, which prepares candidates for the fundamental SOACP exams S90.01, S90.02, S90.03, and S90.04. The completion of some or all of these fundamental SOACP exams is applicable to gaining certification as an SOA Architect, SOA Analyst, SOA Consultant, and SOA Security Specialist, as well as other certifications offered by SOASchool.com® and Arcitura Education Inc.