Webcast Archive: OSPF Concepts and Configuration
Presented by Wendell Odom
Wendell Odom is the most respected author of Cisco networking books in the world. In this free 30-minute webcast, Wendell explores OSPF concepts that must be understood when choosing OSPF configuration. He then discusses the mechanics of enabling OSPF in a small network, focusing on how to enable OSPF on router interfaces. All concepts and configuration sit inside the scope of the CCNA exam.
In this session, you will learn:
The general concept of an OSPF area, and how each interface fits into an area, with routers sitting at the border between areas
OSPF configuration commands
The mechanics of the OSPF network command, including how the wildcard mask can be used to match multiple OSPF interfaces
Key parameters that must match for two routers to become OSPF neighbors
Single area and multi-area configurations
Verification steps and related show commands
Wendell Odom, CCIE No. 1624, has been in the networking industry since 1981. He has worked as a network engineer, consultant, systems engineer, instructor, and course developer; he currently works writing and creating certification tools.
Also by Wendell Odom—Save 30% with Discount Code CCNA30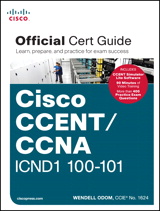 CCENT/CCNA ICND1 100-101 Official Cert Guide
Book *$27.99 $39.99
eBook *$27.99 $39.99
CCNA Routing and Switching ICND2 200-101 Official Cert Guide
Book *$27.99 $39.99
eBook *$27.99 $39.99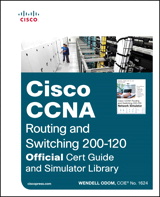 Cisco CCNA Routing and Switching 200-120 Official Cert Guide and Simulator Library
Boxed Set *$139.99 $199.99
---
* Sale prices displayed reflect 30% discount achieved with application of discount code CCNA30. Discount code CCNA30 is valid for a 30% discount off the list price of products relating to the CCNA exams purchased on ciscopress.com, pearsonitcertification.com, or informit.com. Discount is not valid on book + eBook bundles, eBook/Video Deal of the Week featured titles, Safari Books Online, Rough Cuts, individual video lessons, non-discountable titles, or titles on promotion with our retail partners. Discount code may not be combined with any other offer and is not redeemable for cash. Discount offer expires December 31, 2015. Offer subject to change.