Webcast: New CCNA Wireless: Learn the Topics and Architectures
Presented by Jerome Henry
Do you have questions about the new CCNA Wireless certification? Do you wonder how much you should know about autonomous APs, Meraki, or converged access? This is your chance to learn all about the exciting refreshes to Cisco's most popular wireless certification. Jerome Henry walks you through the new requirements step by step, and perhaps most importantly, answers all of your important questions! Download the slide deck and then watch the archived video below.
In this webinar, you will learn:
The requirements to pass the new CCNA Wireless exam
The differences between IOS-XE, AireOS, converged access, centralized architectures, PoA, PoP...and how much you need to know about each of them!
What new 802.11 fundamental topics you need to learn for the new CCNA Wireless
A few not-so-well-known facts about 802.11ac
About the Presenter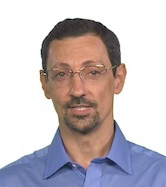 Jerome Henry is in technical marketing engineering in the Wireless Enterprise Networking Group at Cisco. He has close to 15 years' experience teaching technical Cisco courses in more than 15 different countries and four different languages, to audiences ranging from Bachelor's degree students to networking professionals and Cisco internal system engineers. Focusing on his wireless experience, Jerome joined Cisco in 2012. Before that time, he was consulting and teaching Heterogeneous Networks and Wireless Integration with the European Airespace team, which was later acquired by Cisco to become their main wireless solution. He then spent several years with a Cisco Learning Partner, developing wireless courses and working on training material for new wireless technologies. He is certified wireless networking expert (CWNE #45), CCIE Wireless (#24750), CCNP Wireless, developed several Cisco courses focusing on wireless topics (IUWNE, IUWMS, IUWVN, CUWSS, IAUWS, LBS, CWMN lab guide, etc.) and authored several Wireless books (IUWMS, CUWSS Quick Reference, etc.). Jerome is also an IEEE 802.11 group member, where he was elevated to the grade of Senior Member in 2013, and also participates in Wi-Fi Alliance working groups. With more than 10,000 hours in the classroom, Jerome was awarded the IT Training Award Best Instructor silver medal in 2009. He is based in RTP, NC.
---

New from Jerome Henry, for CCNA Wireless 200-355:
Save 30% with discount code CCNAWIRE30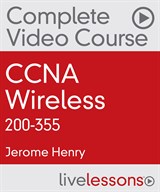 CCNA Wireless 200-355 Complete Video Course
Video *$209.99 $299.99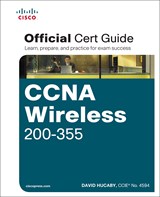 CCNA Wireless 200-355 Official Cert Guide
Book *$34.99 $49.99
eBook *$34.99 $49.99
---
* Sale price displayed reflects 30% discount off list price of ISBNs 9780134498294, 9781587144578, and 9780134307138 only, when purchased on ciscopress.com, pearsonitcertification.com, or informit.com using discount code CCNAWIRE30. Discount is not valid on book/eBook + video bundles, eBook or Video Deal of the Week featured titles, Safari Books Online, individual video lessons, non-discountable titles, or titles on promotion with our retail partners. Discount may not be combined with any other offer and is not redeemable for cash. Discount offer expires 11:59 p.m. EST June 30, 2016. Offer subject to change.
Sign Up to Receive Special Offers