Home > Blogs > You Know You Are A Networker When…
You Know You Are A Networker When…
Whether you're a network specialist in-training, or a seasoned professional - these little tidbits might ring true.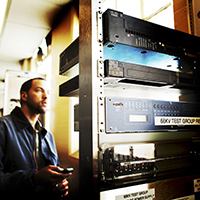 You Know You Are A Networker When…
You tell people your address is 127.0.0.1
You name your dog nexus and your cat IOS
You propose full duplex to your girlfriend
Your Amazon wish contains Libraries from Wendell Odom
You actually really wear those silly t-shirts from the last Cisco Live event
You yell IOS commands while you sleep
You have a home network with 2 PC's and 4 VLAN's
You speak to your other networking friend and no one around you understands the lingo
You have a room dedicated to Cisco routing and switching scenarios: 5 routers 3 switches, 1 patch panel, 5 computers
You really, truly enjoy reading networking books
When your girlfriend isn't responding, you check for a link light
When you walk into a location and you immediately start checking out how their devices are networked
On Halloween you wear a cape, a mask and call yourself the "Subnet Masked Man"
The network hiccups at 4:59 pm on a Friday afternoon and you stick around till you know it's OK
You make your children know TCP/IP by the age of 7
Do any of these sound familiar? If you have similiar thoughts to share, please comment below!
If you are just starting out in the field and haven't experienced any of the above - try Cisco Press First-Step books or their Fundamentals series to help get the basics under your belt. Happy networking!
Other Things You Might Like
CCNA 200-301 Official Cert Guide Library

CCNA 200-301 Official Cert Guide, Volume 2