Leave your answer below to be entered to win a copy of the new VCP5 Certification Guide. Three winners who answer correctly will be chosen at random.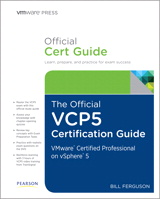 The Official VCP5 Certification Guide is now available in both print and electronic formats, get your copy today!
To learn more about the exam, read this article by author of the Cert Guide Bill Ferguson.
#TuesdayTrivia Question:
Which of the following is true about vMotion?
A. You can vMotion VMs whether they are powered on or off
B. You cannot vMotion and Storage vMotion the same VM at the same time
C. vMotion involves moving a VM's files to a different datastore
D. Storage vMotion involves moving the state of VM from one host to another
Today's #TuesdayTrivia question was derived from Chapter 5 of the newly released title The Official VCP5 Certification Guide. Follow @PearsonITcert on Twitter to learn more about #TuesdayTrivia and other chances to win!