Going far beyond any IronPort user guide, leading Cisco expert Chris Porter shows readers how to use IronPort to construct a robust, secure, high-performance email architecture that can resist future attacks in his new book Email Security with Cisco IronPort.
The new book, available in e-book or print copy, thoroughly illuminates the security and performance challenges associated with today's messaging environments and shows readers how to systematically anticipate and respond to them using Cisco's IronPort Email Security Appliance (ESA).
Today's trivia question: When did Cisco Systems acquire IronPort?
Leave your answer below and tell us if you currently using IronPort and if so what has been your experience?
Tell your friends! We'll be announcing #TuesdayTrivia via @pearsonitcert and @ciscopress on Twitter. Stay tuned for more great prizes!
Answer correctly and three randomly selected winners will receive:
(1) eBook copy of Email Security with Cisco IronPort ISBN:13: 9781587142925
Want more? Check out Chapter 1 of the new book!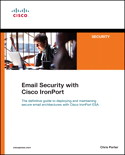 Rules: Answer question by leaving a comment below (one per person, all duplicates will not be counted) by 12:01 am EST on May 11, 2012. Three winners will be randomly selected from all correct answers and notified by a comment from the Pearson IT Certification team on their post.