Back in 2012, I wrote a blog here entitled "Social Media: Valid Certs or Snake Oil?" wherein I observed that one must look neither far nor hard to find numerous certifications about or around the subject of social media. Players in the space include training companies, consulting organizations, and even academic institutions, all eager to cash in on the growing importance and gargantuan cache that comes along with social media. And now, at long last, there seems to be serious, valuable, and vendor-/platform-neutral sponsor in this cert niche, upon whose recent efforts and activities I'd like to report here. I'm talking about an organization named the National Institute for Social Media (NISM) and their Social Media Strategist (SMS) certification.

I've actually blogged on social media certification, and the NISM a couple of times in the past three years. In addition to an October, 2012, PITC post mentioned in the intro above ("Valid Certs or Snake Oil?"), I also blogged again about them for IT Career JumpStart in March, 2014, in a post entitled "A Worthy Vendor-neutral Social Media Cert: SMS." In so doing, I inadvertently blundered into an ongoing trademark/trade name lawsuit regarding the certification's name and designation, as that blog became a staging ground for face-off between the opposing parties involved. I'm happy to report that all the legal shenanigans have been resolved as amicably as possible, and as long as we all refer to the credential I'm covering here as the "NISM SMS" all is good between the former adversaries.

Now clear of legal entanglements, the NISM SMS is finally coming into its own.

As for the NISM SMS itself, there is lots of interesting and good news to report, all of which makes it worth looking into for IT pros interested in adding technical and strategic social media smarts to their arsenal of skills and knowledge.
First, in collaboration with well-known and -respected courseware development firm, Logical Operations, NISM has augmented the SMS certification with a range of self-study options. Because these are so nicely depicted on their site's "Self Study Bundles" page, I'll show a scaled-down version here, but if you follow the preceding link you'll be able to peruse it at full-resolution and thus also able to read the entire contents. Those bundles include a student manual (available in paper or digital form), an exam voucher code, with options to add one or two practice exams, and 1 or 2 tutoring sessions with a certified instructor.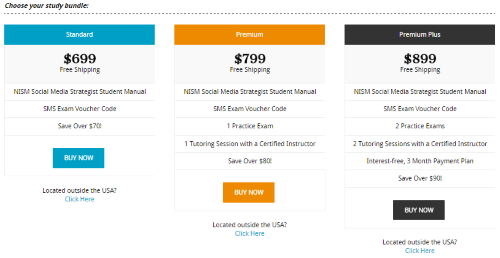 Bundle prices run from $699 to $899, with options to add practice exams and tutoring.
This shows a considerable investment in the credential, and equal confidence in uptake in the marketplace, not just from the sponsor itself (NISM), but also from the publisher involved (Logical Operations).
Perhaps more interestingly, a December 3, 2014, press release announced that the Nashville, TN, campus for Kaplan College is now an authorized educational partner with the NISM, ready to offer training and cert prep courses for the NISM SMS certification. About the cert, the press release exclaims "NISM is the first and only organization to offer a standardized industry certification around the discipline of social media." The first class in the offering got underway on January 19, 2015, in fact, so an initial round of such training is already underway.
Here's how the course description part of the press release reads:
The NISM Social Media Strategist Certification Training program validates the foundational skills required of professionals using social media. To achieve certification as a Social Media Strategist, students complete 30 hours of intense coursework delivered through a blended format with most of the content presented online. Students are required to pass a certification exam covering the six primary content domains of general practitioners in social media: strategic planning; compliance and governance; project management; social media marketing; community management; and research and analysis. As a certified professional, participants who pass the exam will have demonstrated at least minimum levels of comprehension and mastery of essential social media best practices, and are able to apply them on the job with a marginal level of supervision.
Sounds like a good place (and way) to start taking social media more seriously. I'll be very interesting to observe the uptake of this seemingly solid and respectable social media certification over the months and years ahead. In the meantime, this one's worth checking out (NISM SMS home page).