Trolling the site this week for blog fodder, I stumbled a peachy collection of Network+ articles free for the reading. There are 52 such articles, to be precise, including contributions from Sean Wilkins, Kevin Wallace, Jeff Parker, Keith Barker, Mike Harwood, Diane Barrett, Kirk Hausman, Martin Weiss, and even yours truly. Together they do a good job of covering many important topics for the Network+ exam.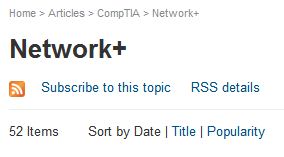 What most attracted my interest was Wilkin's coverage of TCP/IP topics. As the author of a college textbook on the subject that's going into a fourth edition right now, I'm always on the lookout for good stuff on this topic. Wilkins delivers some choice goods in the following series of articles:
There are plenty more on networking media and devices, network diagrams, and so forth from Wilkins as well, along with lots of other specifically Network+ focused exam reviews, general certification advise, and lab setup and usage information from other writers. Check out the whole collection under the Network+ heading. It's not enough to replace a study guide or Exam Cram, but it's certainly some excellent reading material, and a lot of useful resource and reference information in its own right.