If that old saying "Two heads are better than one" is true, does this proposition scale with size? Are four heads better than two, eight better than four, and so forth? In some cases, that answer is "Yes," and my case for today's blog post is the online study group, where as many heads as can access the same server at once can pool their wisdom and experiences, but also share their questions, concerns, and uncertainties.

I was reminded of this salient circumstance as I dropped in on the Microsoft Certification Study Groups, where candidates pursuing MCSA, MCSE, MCSD, and MCP credentials will find like-minded individuals pursuing the same certs, and the exams that go with them. Here's a picture that shows the kinds of study groups available there.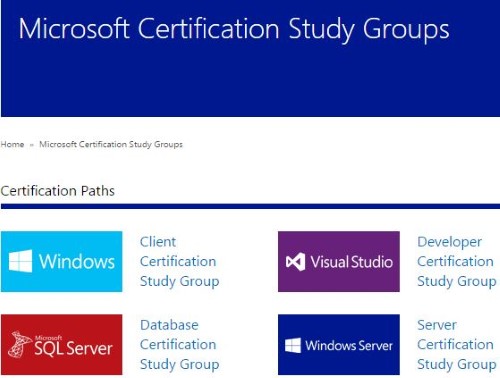 MS Builds Study Groups By Topic Category: Desktop, DB, Server and Developer
A study group brings together people preparing for the same exam and lets them air questions and concerns. You'll find an interesting mix of candidates intent on helping each other out, but also the odd instructor, MVP, or MS employee will drop in to tackle tougher topics, and to inject some wisdom and wit from those who've already taken and passed -- and sometimes even taught or developed -- the materials involved. But in most cases the peers who still face exams sort things out for themselves reasonably well, and prove that the sum of the membership exceeds the skills and knowledge of the individual members involved.
Even if you're not tackling a Microsoft certification topic, where the company has put together official study groups online, you can find such groups simply by searching for them. I've had the best luck searching for "<exam-ID> study group" and "<exam name> study group" where you can insert the vendor or sponsor name in either string as befits your needs (or improves your results). Use the official exam ID for that substitution, so that 70-687 or Configuring Windows 8.1 stand in for ID and name, respectively, for the first of two such exams required for the MCSA: Windows 8, for example. Even if you are studying for an MS exam, you can search for study groups outside the Microsoft umbrella if that's your preference. You'll find them to be great sources of information, recommendations for study resources, and the occasional jolt of motivation or inspiration we all need from time to time when prepping for a cert exam.
As you prepare for your next cert exam, don't forget to find, join, and participate in a study group to help get yourself ready for exam day. You won't be sorry you did!