My regular ONF contact -- namely, Rick Bauer, their Director of Technical Programs and all-around "cert guy" -- sent me a very interesting e-mail this morning.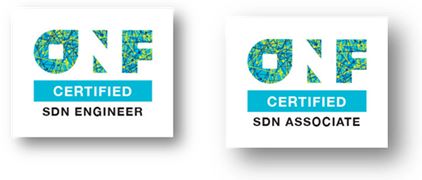 You can't have certs without official logos, right?
With not just his permission, but with his enthusiastic approval (I just talked to him on the phone a little while ago), here's a summary of its contents
1. A draft specification (called a blueprint) has been issued for public review and comment for the ONF Certified SDN Associate (described as a "concept level exam") and the ONF Certified SDN Engineer (described as a technical level exam). Find them here:
ONF Certified SDN Engineer Exam Draft Blueprint (.docx file) Feedback/approval link

ONF Certified SDN Associate Exam Draft Blueprint (.docx file) Feedback/approval link
2. Check out the list of SDN learning resources at the ONF Website
3. Feedback is due by midnight, July 16. A random drawing by email address on July 17 will result in "wins" of 3 $100 and one $500 Amazon Gift card to those selected.
4. The ONF plans to start writing exam questions next month (August 2015), with a free beta version of the exam (that confers actual certification for those who pass) to follow, probably in September.
5. The Cert program goes live at the SDN and OpenFlow World Congress in Duesseldorf, Germany, October 12-16, 2015
You heard it here first. Be sure to grab those files, check things out, and share your feedback.