Plowing through the postings at Microsoft's Born to Learn blog yesterday I came across a reference to a recent Network World article that recounts survey results on the value of certification. The survey itself was conducted by Network World in tandem with network utility vendor SolarWinds and reported undeniably positive perceptions of the linkage between earning certification and its impact on pay and career among 700 networking professionals.
Here's my favorite quote from the Network World story entitled "Will IT Certs get you jobs and raises? Survey says yes":
"Among those who earned certifications, most saw a significant boost in their careers as a result. Some 60% said a certification led to a new job; 50% said they earned more pay, with 40% saying their pay increased by more than 10% directly because of a certification; and 29% said a cert led to a promotion."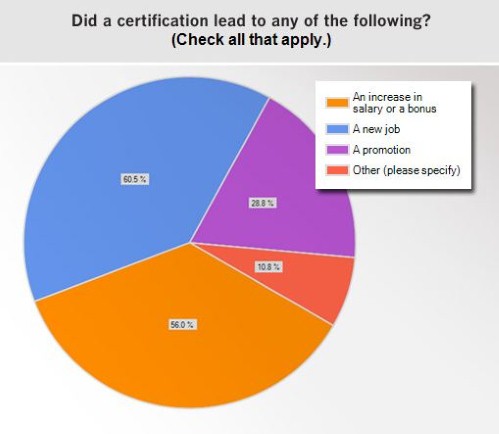 Survey Sez: Yes, IT Certs DO Pay Off!
These survey results are also available in the form of a Web-based slide show (Survey: IT certifications lead to jobs, higher pay). Further survey results appear to indicate that cert candidates are strongly aware of this linkage, and that it motivates their past behavior in obtaining certs, and their future plans in seeking certification.
In an economy where good news is scarce, and where plenty of opinions have been voiced that certification isn't worth it any more, doesn't offer serious payoffs, or that the time and effort spent on certification could be better invested elsewhere, I'm very glad to see long-time conventional wisdom and personal experience so nicely vindicated. I'm inclined to view this as good news for certification program operators, certification training and preparation creators and vendors, employers, and of course, for the IT professionals who comprise the target audience for such credentials.
That doesn't mean you can play the "pick a certification, any certification" game and guarantee good results. But it does mean that if you pick your certs carefully, take them seriously, and keep your skills and knowledge up to date, you are justified in a reasonable expectation that your hard work, skills, and knowledge will offer an actual payoff.