Home > Blogs > Naked Lab Manuals? Never! We've Got You Covered with New Practice and Study Guides
Naked Lab Manuals? Never! We've Got You Covered with New Practice and Study Guides
In talking with the community we've heard questions about why Cisco Press Lab Manuals no longer include the Study Guide sections. The answer is WE HAVE THE CONTENT it's simply in a new form. Cisco Press is producing two Practice and Study Guide books by Allan Johnson that will coordinate with the curriculum sequence. The first is out in December with the second early 2014.
Our Lab Manuals are stripped down to simply include the labs from the course in order to get them out to you sooner; adding the Study Guide exercises, activities, and scenarios takes time so we didn't want to delay. Rest assured, Cisco Press is indeed producing study guide material; it will simply be in our two new Practice and Study Guide books.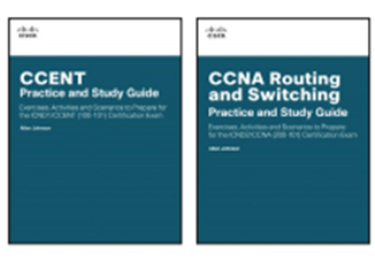 The books can be bundled with your course lab manuals or work with our custom department to merge the two to your liking. For more details information, please see our
FAQ
. We appreciate your patience, while we work to get everything produced. All of our books should be out by Spring 2014!
***Also reminder – Scaling Networks, Switched Networks and Connecting Networks are being released at the end of the week! The Course Booklets and the Lab Manuals are able to be published within 6-8 weeks of the release of each course. The Companion Guides require more work to be done so it takes us about 16-20 weeks to produce the full-featured, hardcover textbooks.

Other Things You Might Like

CompTIA A+ Practice Questions Exam Cram Core 1 (220-1001) and Core 2 (220-1002)

CCNA 200-301 Official Cert Guide, Volume 1