Yesterday, I researched a pictorial story for Tom's IT Pro on the very best cert prep resources online for Cisco credentials. Although I can't say that what Cisco Press has to offer to help Cisco candidates prepare for their exams is the absolute end-all and be-all for that process, I can say it comes pretty darn close. As I researched what Cisco Press has to offer, I came away both amazed and impressed with their depth and breadth of coverage.
A quick look at the "In the Store" and "Quick Links" pointers at the Cisco Press home page helps me start this story, and to explain its significance for Cisco cert candidates: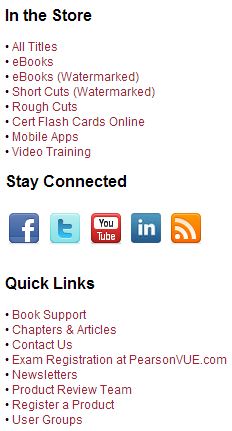 Here's a quick rundown on the various links in the two preceding sections depicted above, starting with the "In the Store" entries:
Here's the same treatment for the entries under the "Quick Links" heading:
Given the wide range of materials available from Cisco Press -- which include various simulators and coverage of practice exam questions in most cert-related titles -- you can find nearly everything you need for nearly all Cisco certs somewhere amidst these many links I've just zipped over. Check it out and enjoy!