Just yesterday, January 31, 2012, Microsoft announced that its certification program turns 20 years old this month. Once the cake has been consumed, and the party hats and streamers cleaned up, it's interesting to reflect on where the program has been, where it is today, and where it's going in the future. In this blog, I'll point at a raft of Microsoft materials surrounding this anniversary and share my own thoughts and observations as well.
First and foremost, it's been a long and winding road from the initial Microsoft cert program offerings -- which emerged primarily as a reaction to (and oneupsmanship of) the highly successful Novell certification program that launched four years ahead of Microsoft's -- to the present day. Some interesting tidbits from the MS News Center anniversary announcement include the following eye-popping statistics:
The MS certified population currently exceeds 7 million individuals
In 2011, over 1 million certification candidates took a Microsoft exam
Currently, Microsoft is embarked on a reworking of its program and educational materials that seek to exploit the power and accessibility of the cloud, and to keep certification content and coverage more current and relevant to actual workplace tasks and activities. This has prompted more frequent and ongoing content refreshes, quicker software (and certification) release cycles, and an emerging impetus toward recertification in some areas to make sure that certification holders keep up with current tools, platforms, and technologies.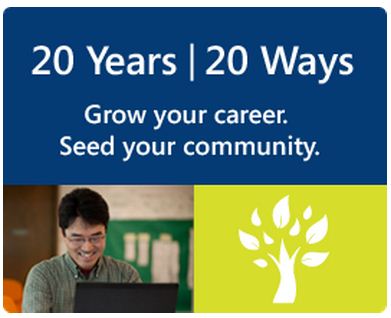 Microsoft's Year-Long Community Support Effort
Microsoft is also planning an ongoing, year-long campaign for IT workers interested in certification called "20 Years|20 Ways" to elicit their interest, and to give the global IT community an opportunity to support the next generation of global IT workers as they start to find their way into this field.
The launch of this program has been seeded with three initial elements of the 20 ways:
Get 1 Exam Help Give 1: For candidates who sign up for any one of 7 qualifying exams on or before April 15, 2012, Microsoft will gift an exam voucher to "an aspiring IT professional."
Tell Your Tale: a request for certified IT professionals to share their certification stories and successes with the community to help inspire others to follow in their footsteps.
Support NetHope: contribute to a global charity that aims to help "aspiring professionals in the developing world" establish and advance their careers.
Four more such elements are planned for March, 2012, with two each following for April through June. The next five months of the year (July - November) get one such element each, with two to close out the year, and bring the total to the promised 20.
Here are some pointers to coverage of the twentieth anniversary that Microsoft has published so far, with more surely to come:
It is hard for me to believe that the program has 20 years behind it now, as much because that means I've been working in and around certification for even longer than that -- since my tenure at Novell, in fact, from 1987 to 1994. The certbiz has come a long, long way since then, and is now an entrenched part of the IT employment landscape. Since the mid-to-late 1990s, Microsoft has been a leader in this arena, and currently boasts the largest certified populations in the world (over 7 million for the professional certs, with more than 10 million for its Office related credentials as well).
Though the company can certainly brag on this program's longevity and critical mass, it's wisely choosing to concentrate on the potential that certification holds for the future. As the technological and operational aspects of IT continue to proliferate and become ever more complex and mission-critical, it's increasingly clear that well-trained, well-informed IT professionals will continue to provide the backbone and the staffing for this all-important business function. Microsoft appears pretty well-positioned to keep riding this wave for a long time to come.