I just saw a very interesting and generous announcement aimed at veterans of the US armed forces and all active military personnel -- namely, one month of free certification training. A nationwide training company is making an extraordinary gesture of generosity and support by opening its entire video training library at no cost for 30 days.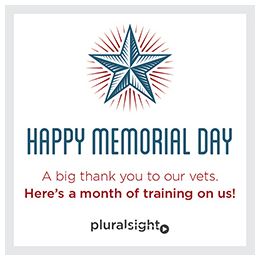 When it comes to helping vets, free IT cert training sounds pretty good!

The company in question is Pluralsight (formerly known as TrainSignal), and their video-based training library contains over 4,000 hours or material from all of the major cert programs -- including Microsoft, CompTIA, Cisco, VMware, and many others. Visit their blog page "This Memorial Day, we thank our vets with free training!" for a sign-up form for electronic submission. Here's a listing of the site's top categories that shows the depth and breadth of the training topics and coverage that's available here:

Pluralsight splits the curriculum between main-line IT and developer topics and coverage.
Any vets who are pondering IT training and certification should dig in while it's free, because even when you have to pay Pluralsight for access to that library, it costs only $30 a month or thereabouts. For those on the training and cert track, it's an excellent information resource all the way around.
And while we're on the subject of vets/active duty personnel and IT training and certification, please be aware that most of the major cert sponsors (including Microsoft, CompTIA, Cisco, VMware, and countless others) offer discounts, scholarships, tuition assistance, and other incentives to encourage our serving and ex-military citizens to find their way into IT. If you belong to this cadre, please check out your options for each of the sponsor's or organization's programs and offerings that interest you. You might be surprised at the good deals you can find, and be able to use GI Bill benefits to cover them.