In preparing myself to write this blog, I turn regularly to numerous resources for inspiration, information, and the topics that make the grist for this particular mill. I've noticed lately that I'm turning to one particular source pretty regularly that is not just a wellspring of good information, but also home to lots of useful job search, interview preparation, and coaching stories and advice for all ages.

I'm talking about the job search site known as "TheLadders", more specifically its "News & Advice" section. Here, you'll find all manner of interesting stories and topics covered, as this snapshot of today's "HOT TOPICS" item will illustrate: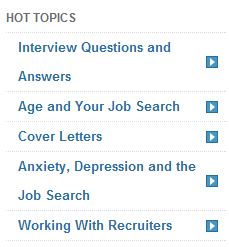 These "Hot Topics" should hit home for many readers involved in or thinking about job search.
For somebody like yours truly who, at age 61, is on the trailing end of his career and general employability, the "Age and Your Job Search" category tantalizes. What I found therein was quite interesting, as the lead-in text for the section amply illustrates:
Age and Your Job Search

To find the stories that matter most to our readers, TheLadders' editorial team reviews every piece of mail that comes into our customer-service department. And every day, we read new stories of older workers grappling with the slippery issues of age discrimination and maintaining their edge against younger competitors.

These challenges aren't going away, and — legal or not — age discrimination is something you'll have to prepare for when tuning up your networking tactics, your resume, and your interview skills. Below find our advice for helping you present your skills and accomplishments to best advantage and dealing with those preconceived notions head-on.
Going on from there, the titles for stories in this category do an excellent job of telling you what's covered and what to expect therein
You'll find other similar, and equally hard-hitting stuff beneath each of the "Hot Topics" entries. In addition, there's a regular features section that's simply called "TOPICS." It covers all kinds of job search and interviewing staples such as your resume, personal branding, job search, networking, interviewing, and salary.
I've been working in IT since 1981 full-time (almost 33 years now) and have always been pretty good at what I do, but even having worked as an individual contributor, a team lead, a manager, senior manager, and even company owner/VP I continually find things on this site that make me stand up and take notice. It's great to have such a terrific source of information and advice, all of which help to promote learning and improve career planning and development. If you check out TheLadders, you will no doubt soon feel the same way!