Earlier this month, I blogged about the upcoming release of a Cert Guide for the LPIC-1/Linux+ exams. Today, I'm pleased to inform my readers that Pearson IT Certification will be adding a complete video course on the same subject matter to its arsenal of prep materials on this subject matter -- and somewhat sooner, to boot. In fact, the video course will make its debut next week on October 5, 2015, while the book will become available on November 18, about five weeks thereafter.

In case you didn't read the earlier blog post, the latest versions of the LPIC-1/Linux+ exams are labeled LX0-103 and LX0-104 (CompTIA) and 101-400 and 102-400 (LPI-C). Although they became available in March of this year, Pearson -- like many other certification materials makers and marketers -- is only now catching up in print and video with that changing of the guard. This latest addition to their arsenal is entitled CompTIA Linux+/LPIC-1 Complete Video Course by well-known LiveLessons instructor Sander van Vugt. It features nearly 13 hours of comprehensive video training that addresses all of the exam objectives for the latest Linux+ and LPIC-1 exams, and includes practice exam questions to help assess skills, knowledge and exam readiness, along with hands-on exercises to develop and demonstrate subject matter mastery. The video materials are structured into 7 modules, further broken into 28 discrete lessons aimed at topics focused on the latest Linux exams.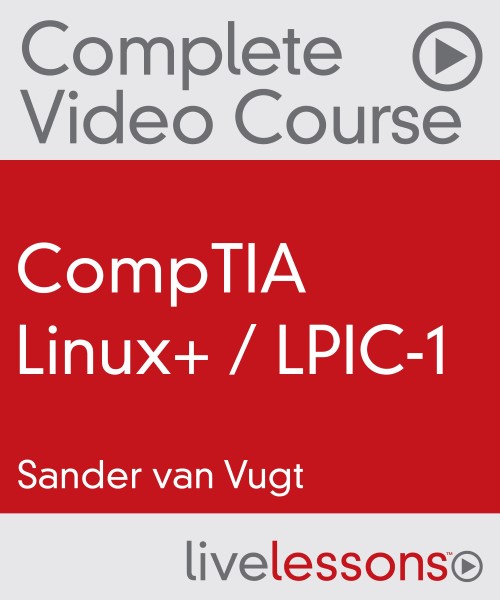 This video course also makes a great introduction to the general topic of Linux system administration and management for junior-level IT professionals just get started in this corner of the business. Likewise, power users and enthusiasts will find the course to be a treasure trove of useful and important information on installling, configuring and managing Linux-based systems. And while Linux may not command a significant share of desktops (less than 2%, according to the latest figures from NetMarketShare.com), it does run on a majority of Web and cloud-based servers world-wide (over 67%, according to W3Techs.com). That's why Linux continues to be a good technology investment for IT pros, especially for those seeking the proverbial "foot in the door" into a system administration or management position, particularly at the entry level.
The CompTIA Linux+/LPIC-1 Complete Video Course is not cheap (list price: $349.99, available through PITC at $279.99). It is a solid and worthwhile video training course for those seeking certfication and/or basic skills and knowledge on the Linux operating system. If this means you, please check it out!