This morning, March 26, 2013, Cisco Learning announced an interesting reshaping of its cornerstone Cisco Certified Networking Associate, or CCNA, certifications. Prior to today, some of the CCNA specialties -- most notably, Voice, Wireless, and Security -- all required candidates to earn a base-level CCNA, and then take an extra exam to qualify for the particular technical focus involved. No more: starting today, earning any CCNA requires taking two -- and only two -- exams.
What Cisco did to make this possible was to rework its iconic ICND1 (Interconnecting Cisco Devices Part 1) and ICND2 (Interconnecting Cisco Devices Part 2) exams, to move all the absolutely essential stuff into ICND1. Now, ICND1 is required for all of these CCNA versions:
Routing & Switching (which is what the former plain-vanilla CCNA becomes)
Voice
Wireless
Service Provider Operations
Numerous other CCNA versions do not require this exam at all, including
Service Provider (requires SPNGN1 and SPNGN2 instead)
Data Center (requires DCICN and DCICT instead)
Video (requires VIVND and ICOMM instead)
The big deal here, however, is that all CCNAs are now "equal," and that all of them can be earned by passing two exams, as shown in the following snippet from a Cisco Learning slide deck (which circles the credentials and exams affected by these new changes):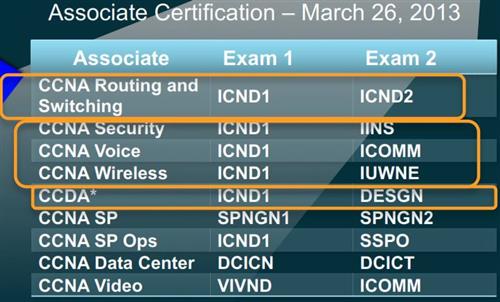 The ICND1 and ICND2 have been revised, and are already available.
Those interested in the new materials can start taking exams immediately, but the old exams won't go away until October 1, 2013 (last day to take the old versions is September 30). Interestingly, Cisco Press also already has new self study materials available, as shown here:

Titles already available for ICND1, ICND2 and the combined exam.
Cisco Press must have moved heaven and earth to have all this stuff ready for what beleaguered authors like yours truly call "day and date" delivery. I hope poor Wendell Odom had lots of good help to make this no-doubt incredible deadline. But the good news is that whenever you're ready to get started on these new Cisco exams, Cisco Press has got you covered! Find links to all these titles on the Pearson IT Certification CCNA page.
Want more information about this announcement and the changes it involves? Check any of the following items:
1. Cisco Revamps and Rationalizes CCNA Program, my IT Career JumpStart blog post for today (3/26/2013)
2. CCNA Routing and Switching home page, Cisco Learning
3. Cisco Evolves Associate-Level Certifications, Redesigns CCNA Routing and Switching Certification to Support Next-Generation Job Roles, Cisco press release
[Postscript:
Why does the Cisco Certified Design Associate, or CCDA, appear on the preceding slide snippet? I'm glad you noticed ... and asked about that! It's there because the old CCDA didn't used to require earning the CCENT (that is, taking ICND1) before this round of changes. Now it does. Because it's affected by the new approach, it's included on the slide, and again helps to explain why all of Cisco's Associate certs -- including the CCDA -- are now more equal than they ever have been before.]