Late last week, Microsoft launched a "buy 2, get 1 free" exam offer that actually translates into earning a Windows Server 2012 related MCSE for $300, for those lucky enough to qualify for this offer. It's a really powerful inducement for those who already hold certain MS cert credentials to upgrade to the latest and greatest Windows Server platform.
The whole offer hinges on eligibility to take the 70-417 exam "Upgrading Your Skills to MCSA Windows Server 2012." Passing this exam lets IT pros skip the otherwise obligatory three-exam sequence (70-410, 70-411, and 70-412 -- aka Installing and Configuring Windows Server 2012, Administering Windows Server 2012, and Configuring Advanced Windows Server 2012 Services) -- otherwise necessary to earn that credential. After passing that hurdle, each of the three Windows Server 2012 MCSEs requires passing only two more exams (MCSE: Server Infrastructure, MCSE: Desktop Infrastructure, and MCSE: Private Cloud all fall under this general umbrella).
Just who's eligible to take the 70-417 exam? Anyone who holds one or more of the following MS credentials qualifies to exercise that option:
MCSA: Windows Server 2008
MCITP: Virtualization Administrator
MCITP: Enterprise Messaging Administrator
MCITP: Lync Server Administrator
MCITP: SharePoint Administrator
MCITP: Enterprise Desktop Administrator
Essentially, this means that if you buy into the offer, you get the 70-417 exam free, but have to pay for the two additional exams required to earn any of the three MCSEs that fall under the offer's umbrella. This offer comes from Prometric under the title of "Microsoft Windows Server 2012 Upgrade Certifications," and to exercise it you must click one of the three "Buy Now" buttons on that Web page as shown here: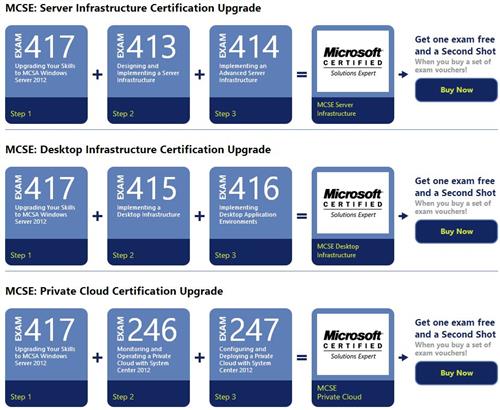 Here's a Three-for-Two Exam Deal that translates into a $300 MCSE!
Take it from me, folks: if you qualify for this deal, you'd be crazy not to buy into the offer. It's not only a good discount, it also qualifies for the Microsoft Second Shot program, which means if you don't pass the exam on a first try, you get a free second try to pass from Microsoft. You must buy into this offer on or before May 21, 2014, and take all exams (including retakes) by the end of the year (December 31, 2014, that is). Like I said: too good to pass up, if you qualify.