Co-Author of the New VMware vSphere 5® Building a Virtual Datacenter, Eric Maillé's new book introduces vSphere 5 from the viewpoint of the datacenter manager and professional.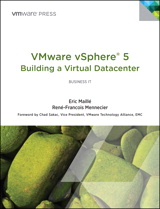 Learn more about the new book - check out Chapter 1 now.
How did you get your start in the industry?
I began in the industry 16 years ago at IBM.
What certifications do you have and are you pursing anything next?
Certification :
• VMware VCP
• EMC Proven Professional (EMCISA )
• EMC Cloud Architect (EMCCA)
What inspires you?
Sports and Athletes who have a dream to win a gold medal and make the maximum to achieve their goal
Favorite author?
Agatha Christie, Aldous Huxley , Ray Bradbury, Umberto Eco, Jean-Christophe Grangé
How has being an author changed you or has it?
It changed the vision that I have of myself on the capacity to achieve my objectives…
Please give your readers 3 tips for success:
• Be enthusiast on everything you do
• Be positive
• Be Curious
When taking those tips into consideration, don't forget to check out Eric's new book: VMware vSphere 5® Building a Virtual Datacenter. Happy reading!