Pearson Publishing not only owns such well-known imprints as Exam Cram, Cisco Press, VMware Press, and the Cert Guide series, it also owns Pearson VUE: an operator of global testing centers for many leading IT certification progams. Thus, it should comes as no surprise at all that we're running a contest -- a sweepstakes actually --wherein 3 lucky first-place winners will collect an exam voucher for the Cisco, CompTIA, or Microsoft exam of their choosing (from VUE's exam list, that is--CCIE lab exams are NOT INCLUDED in this offer) along with any three Pearson books they might wish to choose. In addition, 7 somewhat less lucky but still chance-gifted second place winners can pick any three Pearson e-books they might like.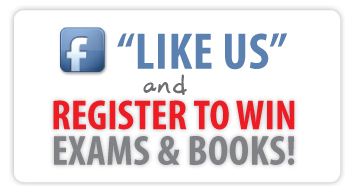 Look for this button on the PIT homepage
I use PIT to stand for PearsonITCertification, whose homepage resides at www.pearsonitcertification.com, where you'll find the button depicted above at the right-hand side of the page, right near the top. Clicking this button takes you to Facebook (where you must have an account, BTW) where clicking a "Like" button enters you in the sweepstakes, and presents you with an application/registration page.
It takes less than a minute to complete the online registration, and makes you a contestant in the upcomign sweepstakes, which closes on June 23, 2012. Three lucky contestants will win the first prize (exam voucher plus three print books), while sever more will finish second (any three Pearson e-books they might wish to select). Retail value for CompTIA, Cisco, and Microsoft exams vary from $150 to $500 or so, so that's nothing to sneeze at, while most three print or e-book selections relevant to IT certification will retail for $100 or more. Not a bad return for under one minute's work, should you be lucky enough to win.
Check it out!