Defy Convention was the theme at the 10th Annual VMworld show, which took place at the Moscone Center in San Francisco during the last week in August. More than 23,000 attendees joined together to talk virtualization, network, and learn. As the official press relationship, VMware Press was prominently present supporting our customers and partners throughout the show.
Exciting stuff first - the number one top selling title at VMworld 2013 was the brand-new VMware Press book VCAP5-DCD Official Cert Guide (ISBN13: 978078975018).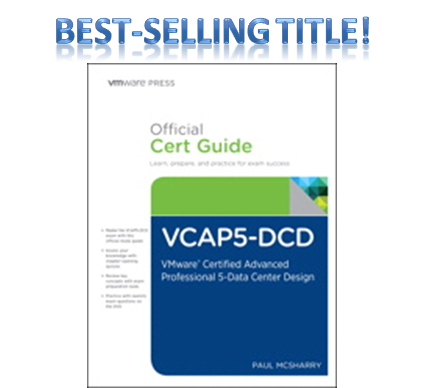 Not to be outdone, VMware Press continued to top the charts with the next three highest selling books in the conference store including:
VMware vCloud Architecture Toolkit (ISBN13: 9780321912022)
The Official VCP5Cerfification Guide (ISBN13: 9780789749314)
Virtualizing Microsoft Business Critical Applications (ISBN13: 9780321912039)
The very busy conference store debuted four new VMware Press books that were shipped directly to the show making their world premiere! Those hot off the press included: VMware vCloud Architecture Toolkit (vCAT), VCP5-DT Official Cert Guide, VCAP5-DCD Official Cert Guide, and Virtualizing Microsoft Business Critical Applications .
Also new this year - eBooks were available at the Conference Bookstore - that's right ebooks at the show! VMware Press offered a special deal to customers that purchased any VMware Press print book to get the eBook version for only $10 more!
VMware Press also had two new Video product offerings. The first from VMware Press, the videos provide 4+ hours of instruction from Bill Ferguson on VMware vSphere Virtualization Fundamentals or get VMware vSphere 5 Jumpstart from Brian Eiler.
Beyond the bookstore, VMware Press was present in the Cert Lounge which had great information and staff to talk to about certification. Candidates could flip through relevant course materials and find-out what's next step in their certification future.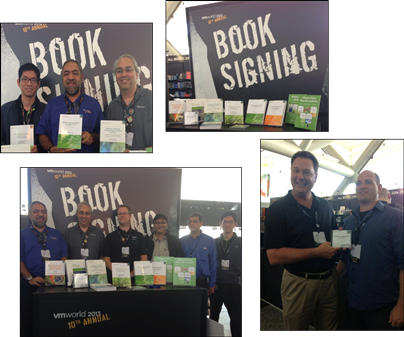 Our hard-working stable of VMware Press Authors had a collective Author Meet & Greet Signing Event on August 28th. The hour long event encouraged customer to get their book/product signed, ask questions, and chat with the experts. Some of the authors in attendance included: John Arrasjid, Ben Lin, Mostafa Khalil, Matt Liebowitz, Alex Fontana, David Hill, Brian Eiler, Alex Fontana, Linus Bourque, Cody Bunch, among others.
The VCDX party was a hit again this year, and the whose who of VMworld were in attendance. The place to be, the room was filled with VMware's brightest stars and VMware Press Authors and Editors were there searching out the the best of the best. [Pictured below are authors Author Ed Haletky, Acquistions Editor Joan Murray and Author Wade Holmes].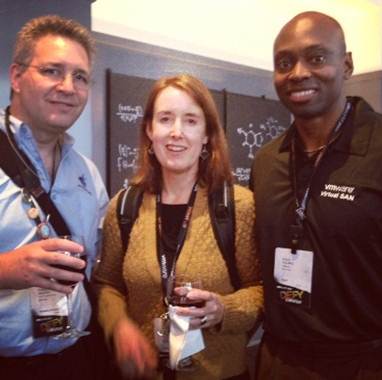 Working along big partners like VMUG, VMware Press offered up special VMUG discounts, collateral and two Kindle Fires loaded with ebooks to giveaway at the VMUG booth. Below is Author Mike Laverick handing one of the lucky winners his prize!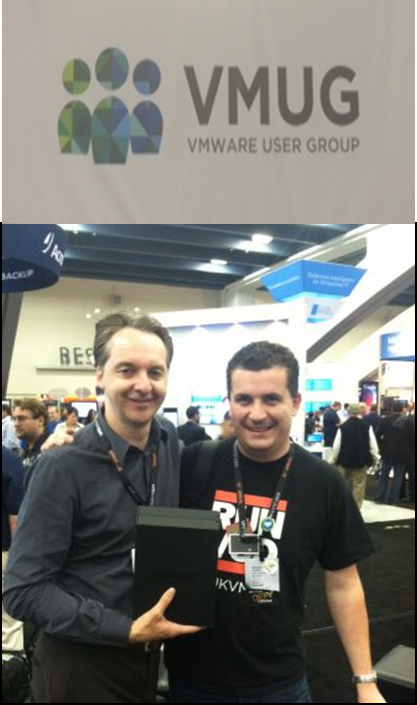 Promoted along side the show this year is a new eSampler containing 5 forthcoming titles available for download now for FREE and a Facebook Sweepstakes where customers can enter-to-win a Kindle Fire stocked with 10 ebooks of VMware Press titles. Even those not in attendance could take full advantage of exciting freebies like these!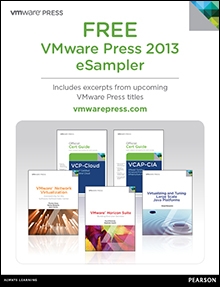 While at the show a few of our authors spent a little time in the media spotlight; find Authors Matt Liebowitz and Alex Fontana discussing recent advancements in technologies that allow IT administrators to virtualize mission-critical applications such as Microsoft SQL Server during an interview with TechTarget and another Tech Chat with Matt Liebowitz from Wahl Network.
Wheew - well that's just a small corner of our VMworld experience, hope to see you at VMworld 2014 - defying convention along side us.