At the end of August, VMware added an associate level to its IT certification program. This puts a layer at the bottom of the pyramid, where the surface area is greatest and where the learning curve for skills and knowledge is at its most gentle. But what makes these new certs so very worth checking out is that they include a FREE self-paced eLearning course for each such credential, which means you can bring yourself up to speed at no cost until (or if) you're ready to start taking exams.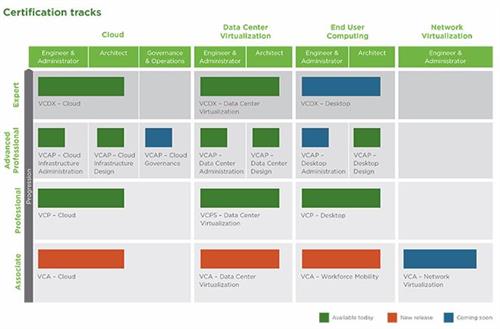 The new VMware cert roadmap shows a new level at the bottom!

There are three Associate level credentials currently available from VMware, with a fourth on its way sometime soon. All of them start with a VCA designation, short for "VMware Certified Associate." Those first three credentials include:
1. VCA-Cloud: the course is called VMware Cloud Fundamentals
2. VCA-DCV (Data Center Virtualization): The course is called VMware Data Center Virtualization Fundamentals
3. VCA-WM (Workforce Mobility): The course is called VMware Workforce Mobility Fundamentals

You can visit the home pages for each of these certs to find additional information, including an exam blueprint for each one, a program overview, links to the VCA Forum, access to instructional video materials, and more. Given how popular and important virtualization and cloud computing are nowadays, and VMware's obvious intent to stake out a major place in this world, it's not suprising that they're willing to give away much of the entry level to encourage more and broader participation in their cert programs. Methinks they already know they'll more than recover the costs for the increased number of participants likely to continue onto their VMware Certified Professional (VCP) certifications, all of which require online or in-class training courses in addition to exams, to the tune of $1,800 and up for training costs (not to mention exam costs, books, practice exams, and so forth).
Another Network Virtualization Associate credential is currently in development, and will undoubtedly receive the same treatment when that offering is made available to the general public, probably later this year, or early next year. Download the VMware cert roadmap for a nice visual overview of the program as it currently stands.