These days, it seems like everything related to virtualization is white-hot, including not just a growing number of related IT certifications, but anything and everything in VMware's growing certification program. Until last week, though, not much had been published on the VMware pinnacle certification, the VMware Certified Design Expert (aka VCDX) credential. No longer: VMware Press has now released VCDX Boot Camp: Preparing for the VCDX Panel Defense (as of May 19, 2013).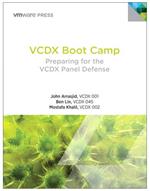 A team of VMware pros proffers a blueprint for the design defense exam.
To earn this credential, candidates must first earn several other VMware certs as pre-requisites, then carefully craft a comprehensive enterprise VMware design to meet a specific set of design goals. The exam involves a live defense -- much like a thesis or dissertation defense in a graduate program of some kind -- before a group of VMware design experts who can lob questions at candidates over a four-hour period.
This short book (it's only 144 pages) summarizes and elaborates upon a presentation that John Arrasjid (who not coincidentally holds VCDX certification 001) and others first delivered at the 2010 VMware Partner Exchange to a packed house (see Duncan Epping's post for more info on those circumstances). It's not really a typical IT cert prep tome that teaches the subject matter the VCDX exam covers, it's really more about how and what to prepare before taking the exam, including the mandatory documentation required. The book also explains how to deal with the exam situation, including managing time and energy levels, how best to respond to open-ended questions or ask for clarification, and in general how best to conduct oneself during the actual examination.
Though other published materials on the VCDX are pretty scarce, interested candidates can find plenty of additional information online, as this Google search will attest. Additional items of particular interest include the following: