Shortly after I launched the Exam Cram series at Coriolis in 1997, Kim Lindros and I compiled a companion book for that series called IT Certification Success. It went through three editions at Coriolis and two more at Pearson (dated 1998, 1999, and 2000 at Coriolis, and 2002 and 2003 at Pearson) before we decided to retire that content, not because it wasn't worthwhile, but because it changed so frequently that we couldn't keep it up to date. That content has been available right here on this site in Web-based form since 2010, and I'm very pleased to report we just finished a major update of its contents.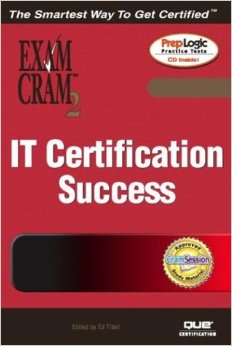 When It Was Still Between Covers, Here's What ITCS Looked like

We've been tweaking the coverage available at "Ed Tittel's IT Certification Success" (ITCS) more or less constantly since the content went live online, but until this latest refresh, it was focused on yearly updates to our Certification rankings (Part 1, Part 2) and various bits and pieces of information across the board elsewhere. This time around, we've not only reworked the rankings (and consolidated them into a single article instead of two conjoined pieces), we've also gone over the rest of the content from start to finish to make sure that everything and anything is up-to-date and up to snuff.
The 2014 edition of the rankings article has just been updated. Some of the areas that have received the most attention in this latest refresh include:
I hope you'll take this opportunity to revisit this guide to certifications, cert preparation, and related topics. I'd like to think of it as the 2014 edition of a online ebook with a fairly lengthy publication history. I hope you'll come to think of it as a useful and informative all-around IT certification resource.