Writing cert prep materials is an interesting and occasionally exhausting vocation, especially in today's era of releases on rapid cadences, and on an ever-shifting and -changing certification landscape. That probably helps to explain why the Cert Guide for exams LX0-103 & -104 (CompTIA) and 101-400 and 102-400 (LPI-C) is soon to be available, even though the updated exams went live at the end of March, 2015. Look for this new book to become available online and in bookstores by mid-November. Here's a preview of its contents, and a link to those interested in pre-ordering the title.

The full bibliographic information for the book is as follows: CompTIA Linux+/LPIC-1 Cert Guide: (Exams LX0-103 & LX0-104/101-400 & 102-400), by Ross Brunson and Sean Walburg, Pearson IT Certification, © 2016, Pearson IT Certification, ISBN-10: 0-7897-5455-X, ISBN-13: 978-0-7897-5455-4. (Book Page; Pre-order Link). Here's a snapshot of its cover: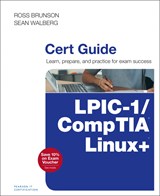 The latest intro Linux exams get a matching Cert Guide on 11/15/15!
The book covers all of the topics for this exam (content is the same whether it's taken through CompTIA or through LPIC) including the following question domains:
1. System Architecture
2. Linux installation and package management
3. GNU and Unix commands
4. Devices, Linux filesystems, filesystem hierarchy standard
5. Shells, scripting and data management
6. User interfaces and desktops
7. Administrative Tasks
8. Essential system services
9. Networking fundamentals
10. Security
The book lists for $49.99, but is available for $39.99 on pre-order. You'll also find it stocked with intro materials to assess your current skills and knowledge ("Do I Know This Already" aka DIKTA) to help you decide whether or not to read specific elements. You'll even find clear explanations and examples for concepts and theory, with explicit tie-ins to real-world configurations, commands, and workplace scenarios. Key topics are flagged throughout, and you'll gain access to two complete practice tests (called "sample exams") to help you practice beforehand and/or assess exam readiness along with the other contents of the books. In addition, the authors will post updates to their exam coverage as more information becomes known about topics, content, and effective exam-prep and -taking strategies over time.
[Note added 9/30/2015: Another new Linux+/LPIC-1 offering will soon be available from PITC. It's entitled CompTIA Linux+/LPIC-1 Complete Video Course, and it will be available on October 5, 2015. It offers nearly 13 hours of video training, and will be available for $349.99 (MSRP) or for $279.99 at PITC through the preceding link. Please check it out!]