Starting late in 2010, Mary Kyle and I repackaged that classic book IT Certification Success, originally published in 1999, with editions about every two years after that until 2005, as a series of articles right here on the PearsonITCertification.com website. Essentially that means site visitors have access to a free, 200-page e-book on IT certification that we put together. It's got some great information, and includes a mix of topical, timely coverage and general IT cert information and advice.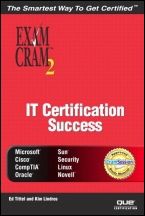 It was a real paper book for 6 years; now it's a free e-book in article form.
You can visit the entire collection of materials through my Ed Tittel's IT Certification Success web page, which includes a general overview and links to 29 articles broken up into these four categories:
General Certification Information: Programs, Benefits, Pros and Cons
IT Certification Planning, Preparation, and Training
IT Certifications, Employment, and Career Planning and Development
IT Job Roles and Related Certifications of Interest
In case you're wondering, my primary reason for telling you all this is to let you know that Mary and I just finished a mammoth update to a pair of items in the first of the four preceding categories, which should be posted to these pages soon. Those two items are entitled:
Ranking Certifications, Part 1: One Method for Rating Certifications
2012 version 2013 version (TBD, will add when available)
Ranking Certifications, Part 2: The Ratings
2012 version 2013 version (TBD, will add when available)
We upped the total number of credentials represented from 84 to 113, and updated all of the ranking metrics for all the unchanged certs in our list, and provided new data for the 30-odd new items that appear therein (we dropped a few old items, to explain why our count of new items exceeds the difference between the previous and current ranking counts).
Be sure to check this stuff out: you'll find a ton of interesting (and hopefully useful) information therein.