Are you a network admin who dreams of working for a big company like HP, Apple, or Dell? In order to be in the running you better get your Network+ certification, as most require their technicians to have it. If you are ready to get a jump on the competition and get certified - note that the new exam version, N10-005, came out in December 2011. Revised objectives address virtual networking, with more attention on security. For those of you in a panic, the previous version exam code N10-004, will still be available through Aug. 31, 2012.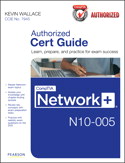 Helping you ace the exam, expert Kevin Wallace offers a complete preparation guide which helps you learn, prepare and practice. CompTIA Network+ N10-005 Authorized Cert Guide even provides chapter-ending questions and a companion DVD with a powerful practice test engine with hundreds of questions. Download a sneak peak of Chapter 8 now!
Today's trivia question:
CompTIA has four certification series that test different knowledge standards, from entry-level to expert. What are the four series?
Leave your answer below and tell us if you are certified or planning to obtain certification – if so what's been your experience?
Tell your friends! We'll be announcing #TuesdayTrivia via @pearsonitcert on Twitter. Stay tuned for more great prizes!
Answer correctly and three randomly selected winners will receive:
(1) eBook copy of CompTIA Network+ N10-005 Authorized Cert Guide
Contest rules: Answer question by leaving a comment below (one per person, all duplicates will not be counted) by 12:01 am EST on March 9, 2012. Three winners will be randomly selected from all correct answers and notified by a comment from the Pearson IT Certification team on their post.
***For a limited time only***
Special offer – save up to 50% today!
Want more?
Check out the
Exam Profile
of Network+ N10-005 by author expert Kevin Wallace, as well as
FREE webcasts
to learn specifics of the exam.