With over 50 years of combined experience, authors Keith Barker and Scott Morris release the CCNA Security 640-554 Official Cert Guide, their study guide to the new CCNA Security IINS exam. These Cisco Certified Internetwork Experts give hints and tips for preparation and show the studier how to pinpoint areas of weakness. Each chapter begins with a "Do I Know This Already?" quiz and each chapter ends with Exam Preparation Tasks.
The official study guide helps candidates master all the topics on the CCNA Security IINS exam, including
-- Network Foundation Protection (NFP)
-- Cisco Configuration Professional (CCP)
-- Management plane security
-- AAA security
-- Layer 2 security threats
-- IPv6 security
-- Threat mitigation and containment
-- ACLs and NAT
-- Cisco IOS zone-based firewalls and ASA firewalls
-- Intrusion prevention/detection systems
-- PKI and cryptography
-- Site-to-site IPsec VPNs and SSL VPNs
Also included: Companion CD-ROM with two complete practice exams and 90 minutes of video training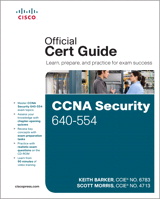 Today's trivia question: According to ITCareersPay.com, what is the average annual salary of someone who is CCNA certified in California?
Leave your answer below and tell howCCNA Security 640-554 Official Cert Guide will help you!
Share with your friends! We'll be announcing #TuesdayTrivia via @pearsonitcert and @ciscopress on Twitter. Stay tuned for more great prizes!
Answer correctly and three randomly selected winners will receive:
(1) copy of CCNA Security 640-554 Official Cert Guide
ISBN-10: 0-13-296606-9
Rules: Answer question by leaving a comment below (one per person, all duplicates will not be counted) by 12:01 am EST on August 11, 2012. Three winners will be randomly selected from all correct answers and notified by a comment from the Pearson IT Certification team on their post.