Leave your answer below to be entered to win a copy of the new CISSP Practice Questions from Exam Cram. Three winners who answered correctly will be chosen at random.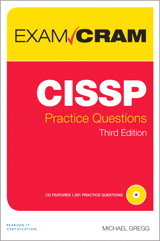 CISSP Practice Questions Exam Cram, Third Edition is now available in both print and electronic formats, download Chapter 8 now for your sneak peek at the product.
Test your knowledge now...
QUESTION:
Black Hat Bob has placed a sniffer on the network and is attempting to perform traffic analysis. Which of the following is NOT an effective countermeasure against traffic anaysis?
A. Packet padding
B. Noise transmission
C. Covert channel analysis
D. ARP redirection
Today's #TuesdayTrivia question was derived from Chapter 10 of the newly released title. Follow @PearsonITcert on Twitter to learn more about #TuesdayTrivia and other chances to win!