Quick! You have to guess which 5 US states currently enjoy the highest growth rate for technology worker jobs. What are they? If you guessed California in that bunch, WRONG! A recent article at Dice.com, based on numbers from the US Bureau of Labor Statistics, shows a surprising line-up of southern states, the northeast, a rust belt state, and more.

The Dice article is entitled "Don't Mess with Tech" and it appeared online on 8/4/2014 (and was later covered in a PC Magazine story entitled "Want a Tech Job? Head to Texas" which is how I found it). The top 10 list makes a very nice graphic, so I'll reproduce it here: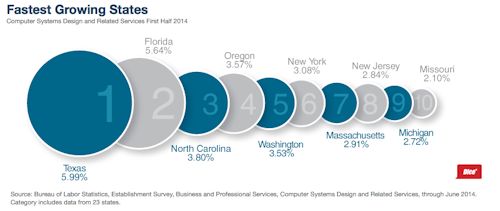 My home state of Texas leads the pack, with the Sunshine State in second place...
The graphic is a little hard to read, so I'll reproduce the data in a two column format below. The legend is in incredibly fine print, too, so it's also worth observing that the data shown is based on the US BLS Establishment survey (one of that organization's stellar collection of monthly employment reports), and draw on employment in the "Business and Professional Services" and "Computer Systems Design and Related Services" sectors for January through June 2014, and includes data from the 23 largest states by population.
Fastest Growing States for IT Jobs (source: Dice)
Position
State
Annual growth rate

1
Texas
5.99%
2
Florida
5.64%
3
North Carolina
3.80%
4
Oregon
3.57%
5
Washington
3.53%
6
New York
3.08%
7
Massachusetts
2.91%
8
New Jersey
2.84%
9
Michigan
2.72%
10
Missouri
2.10%
.

What strikes me about this table and its data is that the range for what constitutes the highest job growth in IT positions falls in a range from just under 6 percent to just over 2 percent. That's certainly nothing like the go-go years of the late 1990s when double-digit job growth was not out of the question, and when demand for IT workers completely swamped supply. Our current lackadaisical growth is somewhat lower, and these numbers speak as much to the quality and robustness of our economic recovery as they do the demand for skilled IT professionals.
Other factoids related to the table help set the scope for what's going on here:
Texas's numbers are based on adding 8,100 jobs in the first half of 2014, for a total of 143,300 tech workers statewide. Hot areas include mobile computing and development, Big Data, and the general run of software developer jobs.
Florida created nearly as many IT jobs in the first half of 2014 (4,100) as it did for all of 2013 (4,500), and tech hiring is something of a causus belli in the gubernatorial race currently underway.
At number 3, North Carolina tech employers post up to 2,200 tech positions on Dice daily, with particular emphasis on Java and SQL savvy professionals, as well as Business Analysts.
At places 4 and 5, Oregon and Washington represent the Pacific Northwest, with a strong emphasis on software development and related positions.
Though Missouri may be in last place so far for 2014, it led the US in tech job growth for 2012 and 2013. It's too early to assume it will finish the year at the end of this pack.