CISSP Practice Questions Exam Cram, Third Edition features 1,001 questions and is organized to reflect the current CISSP exam objectives so you can easily assess your knowledge of every topic. Available in both print and electronic formats, you can check out Chapter 8 for free now!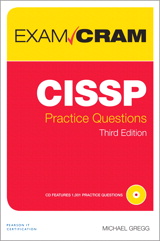 Leave your answer below to be entered to win a copy of the new CISSP Practice Questions; three winners who answer correctly will be chosen at random.
#TUESDAYTRIVIA QUESTION:
The project's goal has been to find a new standard for specifying and evaluating the security features of computer products and systems that will be accepted in North America, Europe, and the rest of the world. What is this standard called?
A. TCSEC
B. ITSEC
C. CTCPEC
D. Common Criteria
Today's #TuesdayTrivia question was derived from Chapter 4 of the newly released title. Follow @PearsonITcert on Twitter to learn more about #TuesdayTrivia and other chances to win!