When MS announced on September 24, 2014 that it was making "select exams" available through online proctoring, I thought it was interesting, and was pleased to see this particular certification giant dips its toes into testing outside the typical testing center environment. In the past week, MS has made it known that all of its MCP and MTA exams are now available online, in more than 40 countries around the world, with all its remaining countries queued up to receive similar service (at least where the minimum bandwidth requirement of 512 Kbps up and down can be met). This is big news!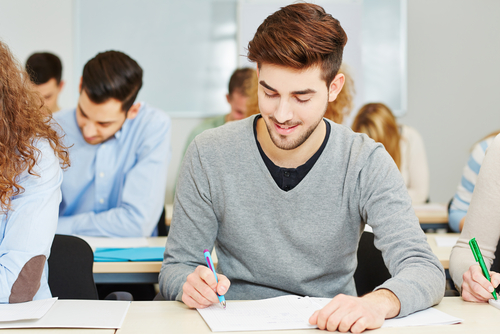 Parking one's butt in a testing center seat may soon be a cert option, rather than a cert necessity.
[Source: Shutterstock 148775399 © Robert Kneschke]

The list of countries where online proctoring is available appears on the company's "Online proctored exam delivery" page, if you expand the item labeled "Participating countries." For the nonce, let me simply observe it already includes all of North America, much of South America, the EU and other big-name European countries (e.g. Switzerland), plus Australia, New Zealand and a bunch of tropical paradises (e.g. BVI, French Polynesia, Martinique, Saint Martin, and the USVI).
Think about what this means: instead of booking a seat at a nearby (or the closest) Pearson VUE testing center to take an exam, as long as you meet the system requirements (which include a working microphone and camera attached to your computer to keep things on the up-and-up), you can test at home. And, that means that subject to proctor availability, you can sign up for a test and take it the same day!
I've been waiting for this phenomenon to manifest in a meaningful way since Kryterion got involved in proctoring technologies five or more years ago. But until Microsoft opened the floodgates to this form of online testing last week, none of the major cert sponsors (which also include Cisco, CompTIA, VMware, Oracle, and IBM) has jumped into this particular pond. With MS now having staked out a commanding first position in this space, I have to believe it's just a matter of time before the other big dogs follow suit.

And because Pearson keeps its involvement (and pieces of the action) intact by providing the aforementioned proctoring services, and most of the other big dogs cited have relationships with Pearson, it should be fairly straightforward for them to jump on this bandwagon. Of course, only time will tell, but it sure smells inevitable to me. I can't wait to see if exam taking rates skyrocket, as I think they might, particularly in areas where getting to a Pearson VUE testing center involves trips of 2 hours or more to park one's posterior in an exam seat.

Great stuff!