At the moment, PearsonITCertification.com is running a survey for interested participants. Those who fill out a survey not only get a discount coupon from PITC good for half-off on a future purchase from PITC online, but will also be entered in a drawing for a free 4-book/ebook Library and a $50.00 Visa gift card. At a minimum, you'll get a coupon and who knows ... you may actually be lucky enough to win something!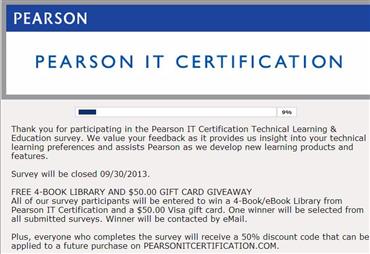 Ten screens in under ten minutes. Just do it!

The survey closes at the end of September (9/30/2013) so please jump onto the survey page, and fill it out pronto. The total number of screens you'll encounter is ten, and the time it takes to complete the survey is ten minutes or less. It's definitely worth doing, and will not only get you a discount on a future cert prep materials purchase, but should also provide Pearson with some useful and interesting data upon which to base future cert prep offerings.