For certification candidates pursuing exams, particularly those who take the self-study route to exam preparation, I strongly recommend assembling a battery of preparation materials to get ready for the test (or tests) that usually come near the conclusion of the certification process. That includes books, practice tests, simulators (where applicable) and more. Often, cert candidates must research these items on a one-off basis, which can be time-consuming and sometimes even frustrating. Pearson makes this easy for certain exams with a variety of bundled products for exam prep, and even offers substantial discounts on those bundles from time to time.

Here's a visual description of what goes into the various bundles from Pearson IT Certification: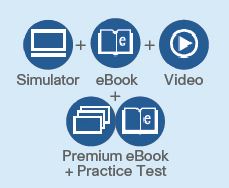 Various bundles incorporate two or more of the preceding elements.
For the next month, PITC is offering discounts of up to 45% on its various bundles, on the following schedule:
Week 1 (currently underway thru 3/16): Cisco CCENT bundles
Week 2 (3/17-23): CCNA Routing & Switching 200-120 bundles
Week 3 (3/24-30): CompTIA A+, Network+ and Security+ bundles
Week 4 (3/31-4/6): VMware and CCNP Routing & Switching bundles
Here's a taste of what this translates into, based on the ongoing promotion for CCENT currently underway (visit the Bundle Offers page for more details, and ordering links/info):
1. Network Simulator + Premium Edition eBook + Practice Test Bundle: $80.98 ($134.98 list)
2. Video Course + Premium Edition eBook + Practice Test + 31 Days Before your CCENT Exam ebook Bundle: $199.73 ($362.97 list, including an Exam Cram)
3. Network Simulator + All of Item 2 $237.97 ($434.97 list)
These are all pretty good deals, with great exam coverage and prep support. What is sure to follow for weeks 2-4 of the promotion is likely to be as good or better as what's on offer right now for the CCENT. Keep dropping in on the promo page to learn more about what's up, and to chase these deals for yourself.