When Cisco introduced the new CCNP Security credential almost one year ago (early 2011), I figured the days of the Cisco Certified Security Professional, or CCSP, had to be numbered. And sure enough, Cisco retired the CCSP credential on November 17, 2011 with little fanfare.
As of the retirement date (11/17/2011) CCSP holders will no longer be able to renew that credential, and no new CCSPs will be granted. The CCSP retirement notice has all the details, but a great many of its constituent exams will count toward a CCNP Security, as the following charts (lifted from that notice) indicate:
Current CCSP Exams That Count Toward CCNP Security

Legacy CCSP Exams That Count Toward CCNP Security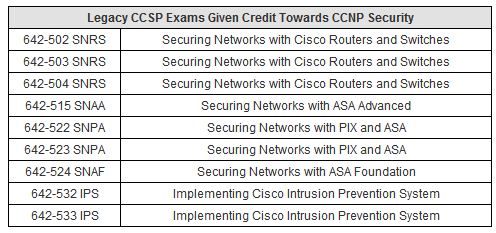 I'm both surprised and pleased that Cisco is allowing so much overlap from the old program to the new, thereby making it awfully easy for CCSP holders to acquire a CCNP Security going forward. I wish all certification program operators were so understanding and accommodating when the time comes to sweep out the old, and bring in the new!
The original stumbling block in making a rapid switchover from CCSP to CCNP Security, interestingly enough, had to do with US Government authorization of the courses and materials to qualify credential holders to meet the 8570.01-M DoD Directive requirements. Having obtained authorization for the CCSP, Cisco was loathe to abandon the program until the CCNP Security had likewise been put through its paces and also obtained authorization as well. I suspect that earning such authorization couldn't have preceded the decision to shut down the CCSP by very much time, if any at all.