Cody Bunch, Author of the new VMware Press book Automating vSphere with VMware vCenter Orchestrator, was kind enough to spin through a short Q & A with us.
Have more questions? Comment below with what you want to know! In the meantime – learn more about his background from his bio and check out this sample chapter Introduction to Workflow-Fu with VMware vCenter Orchestrator from the book.

1. How did you get your start in the industry? I kind of grew up in it... started on an old Atari, the rest is history.
2. What certifications do you have and are you pursing anything next? Lots... but none on the list presently.
3. What would your readers be surprised to know about you? Dunno... I like turtles... quite a bit. Like 2700 Gallon pond like turtles.
4. What's your tech library look like? It's all ebook now, and all over the place. I look for inspiration / technology & process innovation in all places. So with the standard vSphere library books, I also have a number of design and industrial process books.
5. Any favorite blogs or sites that you can't miss? Mine: http://professionalvmware.com/ Also, here: http://vlp.vsphere-land.com/ All the blogs and twitter handles you need to get started.
6. What inspires you? That answer is the simplest really. I try to find a lesson to learn or inspiration in all manner of things.
7. Favorite author? Depends on the genre and it's hard to pick just one. Alastair Reynolds & the late Robert Jordan are up there.
8. Care to speculate on the next big thing? Meh. Speculation falls into the bucket of spending too much time in one's own head from #10.
9. How has being an author changed you or has it? Given me a new outlet to give back and help others along their journey.
10. Please give your readers 3 tips for success Success? Success usually eludes folks who plan too much and talk themselves out of doing. So, the only tip I can give, is stop thinking and start doing. If you get it wrong, try again.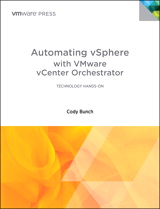 Cody's book is available now! Follow him on Twitter @cody_bunch.
Automating vSphere with VMware vCenter Orchestrator ISBN-10: 0-321-79991-7