Wow, it's not often I get to plug a really great offering from the very folks who pay me to blog for this site. But today is that day, and there's a very exciting new certification prep bundle hitting the streets right now from Pearson that combines ebook versions of its excellent study guides along with practice tests to help candidates prepare for a variety of exams, starting with Cisco's CCNA (CCENT and ICND2), CCDA, and a variety of CCNP topics.

Even better, Pearson is offering a 50% discount for all of the currently available offerings, which goes cert candidate one better than their normal competitive pricing. Check the "Premium Edition eBook & Practice Tests" page for more information, but here are some highlight for what's currently available:

Cert Exam ID List Pr Discount Notes
CCNA 640-461 $49.99 $25.00 CCNA Voice
CCDA 640-864 $59.99 $30.00
CCNP 642-637 $69.99 $35.00 CCNP Security SECURE
CCNP 642-647 $69.99 $35.00 CCNP Security VPN
CCNP 642-617 $55.99 $28.00 CCNP Security Firewall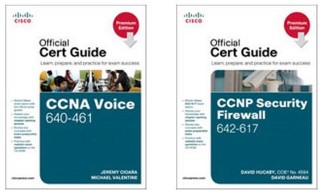 The following items are under development and should be included in the Pearson Premium Edition eBook and Practice Test offerings soon:

Cert Exam ID Notes
CCNA 640-822 CCENT/CCNA ICND1
CCNA 640-816 CCNA ICND2
Security+ SY0-301
Network+ N10-005
This is a fabulous deal for cert candidates, especially those already in the habit of using their PCs or a tablet to study for certification exams. Be sure to check it out soon!