This time last year you may remember Cisco Press, awarding their annual Facebook Sweepstakes prize to grand prize winner Amy Sauer who took home a free full-conference pass to Cisco Live 2013 in Orlando, FL, a $1,000 gift card for expenses at the show, and her choice of three Cisco Press products; a total prize package value of $2,500!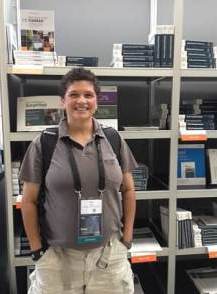 "I was completely shocked, and then absolutely excited, to be chosen as the Grand Prize winner in the Cisco Press Sweepstakes," said Amy when asked about her initial reaction. "Aside from the awesome new selections I get to add to my IT library, which will help me continue on my certification path, being able to attend Cisco Live! 2013 is by far the best part of the winnings package! I'm looking forward to being surrounded by like-minded individuals who have the same passion for networking that I have, not to mention access to all the great training sessions. I'm confident this will be just one of many great Cisco Live adventures I'll have - I can't wait! Thank you so much Cisco Press!"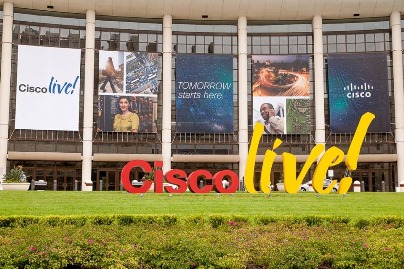 Well at show time this year, we followed-up with Amy, who actually played roving reporter for the week and provided several video updates live from the event to share with Cisco Press fans/followers who couldn't attend.
Beyond attending many technical sessions, Amy checked out the World of Solutions where more than 200 partners exhibited, roamed the Cisco Store where customers could purchase books, attire and gizmos, attended a Customer Appreciation Event - which included watching Journey perform and an open pass to Universal Studios, and visited the Certification Lounge where she took and passed a free CCENT certification exam on-site in Orlando!
"I still can't believe I won. People at my work are jealous (especially the networking folks –we're a Cisco shop) since our training budgets have been dried up for years, unfortunately, so I'm feeling especially grateful for the opportunity. I'm really appreciative; I never win anything so this was especially awesome!"
Congratulations again to Amy Sauer for passing her exam and making Cisco Press a proud sponsor of her show experience!
Check out some of her updates live from Cisco Live 2013!
-Video 1: Welcome to Orlando
-Video 2: World of Solutions Tour
-Video 3: Certification Lounge Tour
-Video 4: Customer Appreciation Event
-Video 5: Cisco Store
Wishing you could have won?
Well you still have a chance to win this year's Facebook Sweepstakes – prizes are: $1,000 in Cisco equipment, Cisco Marketplace shopping spree and free Cisco Press books. Enter now!