PITC's publishing arm strikes again, this time with over twelve hours of video training from Cisco CCIE and training maven Kevin Wallace. The subject is the Cisco Certified Network Network Professional, Routing & Switching, Exam 300-101, and consists of 149 videos that cover the entire CCNP R&S curriculum. These videos are structured as a collection of individual lessons, complete with summaries plus interactive module and glossary quizzes to help cert candidates master the materials covered. Good stuff!

The title of this product is
CCNP Routing and Switching Route 300-101 Complete Video Course
. Even though Pearson didn't publish this item as a book per se, it still comes with an ISBN number (-13: 978-0-7897-5373-1) and some snazzy cover art anyway. The best thing about this new offering, aside from coming from one of the best Cisco instructors around, is that it's currently on sale at half-price. That is, instead of going for its full list price of $349.99, you can pick up a copy right now for $175 instead. That's quite a good deal, for a great set of training materials.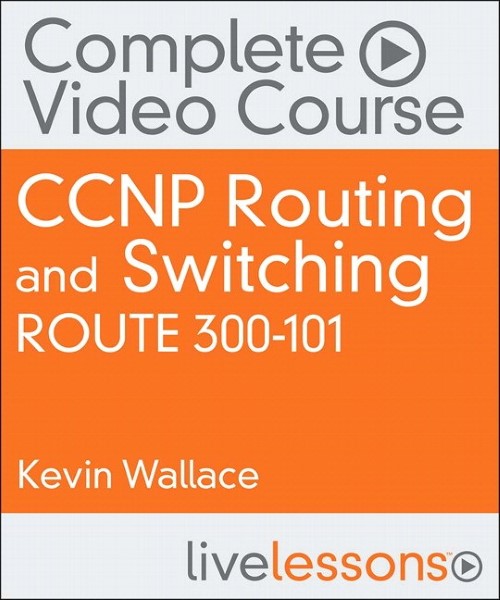 The cover art for the video course puts everything into context.

The content of the video course is targeted directly at the key concepts and technologies that drive the ROUTE 300-101 exam for the CCNP R&S. Topics covered include fundamental routing concepts that range from IGP routing protocols (RIPng, EIGRP, and OSPF), to route distribution and selection, to the Border Gateway Protocol (BGP), along with IPv6 connectivity, router security, and routing protocol authentication. The materials leaven Mr. Wallace's excellent lectures with whiteboarding, real-world demonstrations, network traffic animations, and animated doodles. Purchasers also gain access to hands-on router and switch CLI configuration and troubleshooting in a virtual lab setting, so they can put the concepts they've learned to work in a hands-on setting where they can learn from their mistakes as well as their successes.
For a more complete overview of this product offering, and information on how to purchase the video training and other materials it includes, please visit the product page:
CCNP Routing and Switching ROUTE 300-101 Complete Video Course.