I'm a proud and sometimes befuddled owner of an HP laptop affectionately known as "The Dragon." That's the nickname for the enormous HDX92xx series, introduced in 2007 and discontinued in 2009 . This Dragon has taught me many things, but none as valuable as the impact and utility of a strong and committed community.
By now, I hope you're saying "Huh? What is he talking about?" I'm talking about trying to keep an expensive, attractive, and finicky laptop PC running in the face of little or no vendor support -- HP never posted any Windows 7 updates for this machine, for example, and has more or less abandoned it to chase other, more attractive and profitable platforms and customers.
But the Dragon is the focus of a killer user community online, thanks to a dedicated crew of uncompromising hobbyists and enthusiasts at Notebookreview.com on the HD HDX 9000 Dragon Owners Lounge. It's now in a Part 2 version, in fact, because there's so much message volume they broke the forum into two pieces (Part 2 kicks off in early September 2010, and runs up to today).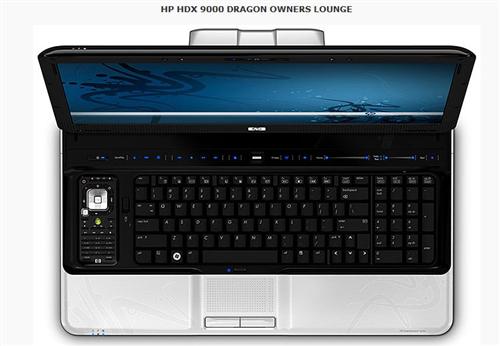 A Dragon photo heads off the intro post at the start of Parts 1 and 2.
If you had a reason to go digging into this forum (and unless you're a fellow Dragon owner, I can't think of a good one), you would find four outstanding things about it:
1. It's manned by a volunteer staff of knowledgeable, talented and caring individuals. They want you to get your Dragon working, and to help you fix your problems.
2. It's got introductory pages that cover ALL of the common questions, and provide pointers and advice to getting Windows 7 working for all of its various device configurations. This especially includes drivers, about which this machine is extraordinarily finicky -- as I have learned from considerable personal experience.
3. If you have questions, you'll get answers -- even if they amount to "RTFM" for the common stuff addressed on page 1 of both Parts 1 and Parts 2 of the forum.
4. If you contribute to the efforts of the community, you'll make friends for life with a great bunch of people.
I did have a good reason to get involved here, and it has paid me many handsome dividends. Not the least of these is reminding me that for certification seekers, finding a good, strong, active community can make the difference between success and failure when it comes to tackling some particular credential and the exam or exams involved in earning it.
What's your take-away from this blog? If you want to get certified in something, and don't have easy local access to a real, physical community of fellow candidates and successful cert-holders, find yourself an active an engaged online community. This really can be one of the great experiences of life, and offer much more by way of inspiration, information, and education than you might ever expect. Be maniacal in your search and you will eventually come up with something good. And when you do, be sure to share it because community thrives on constant injection of new members, among many other things. Happy hunting!