In February, the second Microsoft Career Certification Conference (MCCC) was held online for 24 hours on the 17th of that month. With another MCCC coming on May 24, it's becoming a regular quarterly online event for the company. With lots of content, ample opportunities to interact with trainers, career coaches, industry luminaries, and employers, it's a great opportunity to mingle with your peers while boosting your career profile.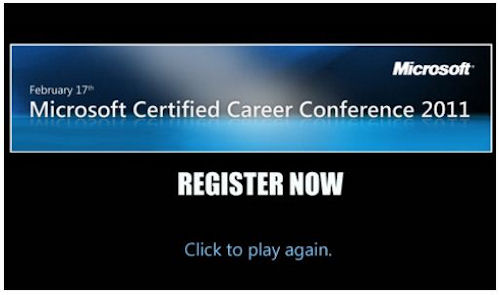 In November, 2010, Microsoft held the first MCCC and drew about almost 2,000 online attendees. On February 17, 2011, the second MCCC topped 2,300 unique logins, over 7,500 live session attendees, and offered up to five simultaneous training and presentation tracks over a 24-hour period.
Microsoft actually offers seven different online training tracks during the event, but its keynotes run standalone (which means 3 of the 24 1-hour slots in the MCCC agenda face no competition from other sessions or tracks running at the same time). Other agenda tracks include:
MOC (Microsoft Official Curriculum): snippets of MOC training on Windows Server 2008 Active Directory and Exchange Server 2010.
Super Cert Me!: tune-up and drill sessions to help attendees prepare for specific MCP exams. In February, they covered lots of exams, including 70-662, 70-663, 70-443, and 70-515.
Career Essentials: All kinds of career tips and tricks from podcasting to resume writing to communications skills and more.
People and Technology: Various tools and technologies of interest to IT professionals for career and professional development. Jeff Johnson and I gave a session on certification in academia last time around in this track.
Opportunity Knocks: Sessions on employment trends, hot job prospects, and even one on IT Certification Success from yours truly.
The 60-Minute Rock Star: Quick power-user sesions on various MS technologies designed to enhance skills and knowledge and boost productivity, including e-mail, Active Directory, Windows Phone 7, and various Office 2010 components.
A Day in the Life: Vignettes from real-life experience from the career and certification arena.
All in all, the MCCC is a great value for an online conference. The last one cost $50US to register, but offered up to 50% discounts to early registrants, full-time students, and individuals already MCP certified (or better). Given an active online community, lots of interesting and useful content, and access to session materials and recordings for up to 90 days after the conference, attendees will find much worth mining (and minding) in the many tracks and sessions offered. Job seekers can also interact with hiring companies, and IT professionals at all career levels can do some useful and valuable "peer networking" at this event.
The next MCCC will be help on May 24, 2011. Visit the registration page to sign up (and if you register early, or qualify for other discounts, you can probably sign up for under $30).