Last week, I blogged about Cisco's role in a White House sponsored Task Force that aims to help returning military personnel with appropriate Military Occupation Specialties (MOS) get into meaningful civilian employment. In particular, Cisco seeks to identify various specialty codes (all the major branches of the military have them) that would be appropriate for its entry-level CCNA Routing and Switching. And, as I had already guessed, both CompTIA and Microsoft are also in on this initiative, known as the IT Training and Certification Partnership.
Job classification systems are at the heart of how the military identifies what its personnel do only a daily basis. The MOS is Army-speak for those job codes and it's also used by the Marines. The Air Force uses something similar called an Air Force Specialty Code or AFSC, while the Navy has both a set of naval ratings and a Navy Enlisted Classification or NEC code system as well.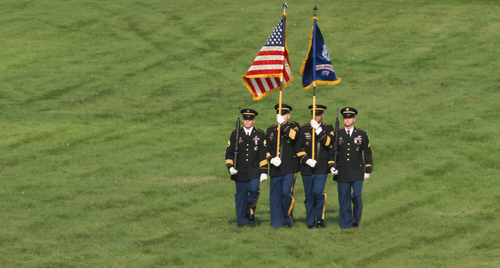 Karl R. Martin[Image credit: Shutterstock 1612706]Shutterstock.com
Right now, there's a pilot program underway to get a group of 1,000 transitioning military personnel hooked up with relevant training and preparation, which will hopefully result in a majority of those people attaining either IT certifications or some kind of licensure (in parallel with the IT efforts that interest me primarly, there are also other efforts underway for medical professionals preparing to separate from the services as well).
I spoke to Shelby Grieve, the Director of Professional Certification at MS Learning, and her colleague Larry Kaye, a Senior Product Manager for MS Learning, both of whom have been involved behind the scenes in getting this initiative off the ground since last year. Ms. Grieve informed me that part of her efforts were not just to identify military specialty designations that could map to various MCSA credentials (so far, Windows 7 and 8, and Windows Server 2012 have been identified as potential targets for pilot program members to pursue, with some effort also involved in the MCSA credentials related to database and development technologies also in that mix). Likewise, both CompTIA and Cisco faced a similar task in figuring out who best to steer toward some of their credentials, and how best to make that happen.
The overall partnership also includes certification sponsors Oracle, SANS, HP, and NetApp, as documented in a White House Fact Sheet released early last week on April 29, 2013. Here's what's on the table:
1. Cisco: partnering with Global Knowledge and Pearson VUE to provide training courses and certification exams at no cost to participants for the CCNA Routing and Switching.
2. Microsoft: will donate 500 exam vouchers and partially underwrite training costs for service members to receive skills training based on Microsoft Official Curriculum elements. MCP is the only credential explicitly mentioned, but an MS blog post also spells out MCSA on Windows 7, Windows 8, and Windows Server 2012.
3. Oracle: will deliver technology, courseware, career-readiness and computer science resources for database design, SQL, and Java through its Oracle Academy and Oracle University Workforce Development programs.
4. CompTIA is donating vouchers for various certification exams, such as A+ and Security+, for program participants. The organization has already committed to train and certify 35,000 veterans and military spouses by the end of this year (2013), and 92,000 by the end of 2016, through a "Troops to Tech Careers" initiative.
5. NetApp: will offer web-based training and certification for its NetApp Certified Storage Professional (NCSA) entry-level credential, through NetApp Learning accounts, and access to Web-based training and virtual lab facilities, plus free vouchers through Pearson VUE.
6. HP will provide access to its ExpertOne certifications through HP Education Services (an approved US Military Services training provider) and will offer HP Web-based training and exam vouchers for its Cloud or Converged Infrastructure curriculum elements.
7. SANS is providing training and certification scholarships into its Global Information Assurance Certification (GIAC) offerings, including training and exams.
In addition, Global Knowledge and Gogo Training are providing training scholarships and access to online self-paced training materials, respectively, to cover the various certification programs called out above, and to help transitioning military personnel obtain skills and knowledge necessary to work in computer programming, database administration, and software and mobile apps development roles. Futures Inc. is assisting with an IT Pipeline program designed to match up active and reserve personnel with training, certification, and employment opportunities.
Put the whole mix together, and you've got a very interesting program. I'm hopeful that it will not only help our service men and women learn some useful and valuable skills, but see them into interesting and gainful civilian employment as well.