Fujitsu has announced the release of a study guide for an exam based on Carrier Ethernet and related Metro Ethernet Forum (MEF) services and related technologies. This study guide works on the Apple iPad, and is designed to help candidates prepare for the Carrier Ethernet Certified Professional (MEF-CECP) exam.
The MEF-CECP exam aims at telecom professionals who want to validate and verify their skills, knowledge, and expertise in the area of Carrier Ethernet technologies, standards, services, and related applications. It is the first in a planned series of MEF exams, runs for 2 hours in multiple-choice format, and covers Carrier Ethernet technology fundamentals. The target demographic includes telecom product and technical marketing managers, pre-sales and application engineers, product planners, and technical sales staff.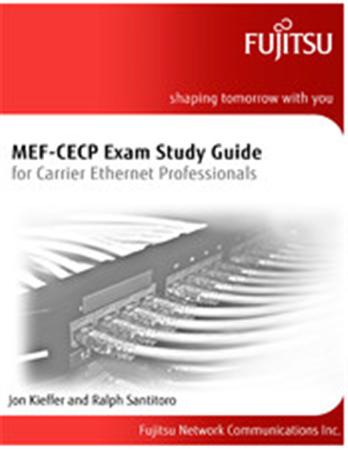 A detailed exam preparation guide is also available online, and includes exam objectives, pointers to training courses from MEF-authorized training providers, and links to an MEF Website with reference documents on certification, implementation agreements, acronyms, standards and specifications, and more. The Fujitsu MEF-CECP Study Guide is available through the iTunes/Apple Store for $34.99 and covers all the necessary technical information and topic areas for the exam, including a set of multiple-choice practice questions at the end of each chapter, along with strategy and guidance to help IT professionals prepare for the exam.
To me, what's really interesting about this announcement is the proliferation and popularity of specialist voice-and-data-networking programs and credentials in recent years. As the world goes increasingly wireless, and infrastructure gets built out to support the huge volumes of digital traffic this produces, it's nice to see that the industry is keeping up, and providing ways for IT professionals to learn and master this kind of material.