Home > Blogs > MS Restarts "Second Shot" Program
MS Restarts "Second Shot" Program
In what is apparently becoming something of a (very early) Rite of Spring, MS has re-launched its Second Shot program, whereby a special cert exam registration earns candidates the rights to a free re-take should they fail on their first attempt. The devil, of course, is in the details so please read on to learn all about them!

The sign-up period started on January 5, and lasts up to the end of May (5/31/2015). Those who exercise the "Second Shot" offer can re-take any exam they don't pass on their first try, as long as they reschedule their retake within 30 days of their exam date. This effectively puts the expiration date of this current Second Shot offering at June 30, 2015.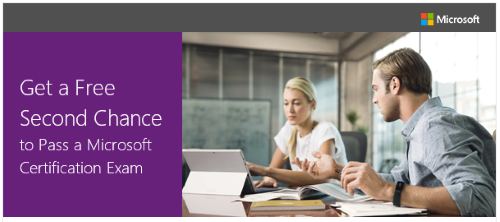 Act fast to get two chances at applicable MS cert exams for the price of one!
Exams that qualify for second shot include any of the exams for the following Microsoft certifications:
Please note that exams toward the Microsoft Technology Associate (MTA; exam ID numbers usually start with 98) or the MS Office Specialist (MOS; exam ID numbers usually start with 77) do NOT qualify for the Second Shot deal.
For all the particulars on the Second Shot program please visit the Second Shot page in Microsoft Learning's Special Offers area online. To schedule a second shot for yourself (and it's definitely worth doing if you plan to take an MS exam by the end of May, 2015, in any case) visit that Second Shot page, sign in, select your exam from the exam list, and click Schedule now for free. Be warned: You must follow that link to qualify for the special offer. Don't delay!

Other Things You Might Like
CCNA 200-301 Official Cert Guide Library

CCNP and CCIE Enterprise Core ENCOR 350-401 Official Cert Guide

CCNA 200-301 Official Cert Guide, Volume 2