Last month, MS updated some of its technical certifications, adding the MCSA: Windows 10, and dropping the earlier versions of that cert for Windows 7 and Windows 8. Perforce, this changes the certification roadmap for the company's programs, and now they've released an updated version of that infographic to follow suit. Find the link, and some discussion, in the remainder of this blog post!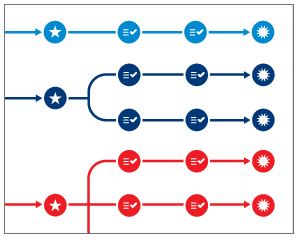 Here's the schematic for the latest roadmap (the real thing is unreadable at low resolution).
[An encircled star denotes MCSA, encircled sunburst MCSE, encircled asterisk MCSD,...]

You can find a link to download the roadmap on the Microsoft Born to Learn blog home page, or you can use the download link from the screen capture caption above to grab that document directly. Either way, you'll find a newly reorganized road map that shows technical certification tracks as follows:
Windows (desktop, in medium blue): leads to MCSA: Windows 10 and onto MCSE: Enterprise Devices and Apps.
Windows Server (dark blue): leads to MCSA: Windows Server 2012 and onto MCSE: Server Infrastructure plus MCSE: Private Cloud.
Office 365 (red): leads to MCSA: Office 365 and then on to MCSE: Communication, MCSE: Messaging and MCSE: SharePoint.
SQL Server (black): leads to MCSA: SQL Server 2012, and then onto MCSE: Data Platform as well as MCSE: Business Intelligence.
Microsoft Azure (light blue): points to three cert exams (70-532, -533, and -534) but no further advanced credentials as yet.
Development paths (purple): points through various paths (Web Applications, SharePoint Applications, Windows Store Apps Using HTML5, Windows Store Apps using C#, Application Lifecycle Management, and Universal Windows Platform) to related path-specific MCSD credentials.
Numerous exams that lead to (or not, in Azure's case) MCSA, MCSE, and/or MCSD may convey Specialist certification in and of themselves, and are marked as such with a small star to the upper right of the exam symbol to denote this special status. See the roadmap for details.
With the release of Windows Server 2016 in the second half of this year, and lots of changes to MS Server related exams (which may affect all the paths shown above, or at least, a major subset thereof) expect to see a new version of the roadmap to appear in late 2016 or early 2017, depending on how long it takes for the new cert paths to follow in the wake of or alongside the upcoming major new Server version ahead.