Azure is Microsoft's online cloud platform, which the company uses itself to host OneDrive, databases galore, datacenters, email services and more. It supports all the major Windows Server platforms, and is suprisingly powerful and affordable. Right now, MS Press is giving away its lead-in Azure title, free for the downloading.

The book is entitled "Fundamentals of Azure: Microsoft Azure Essentials" by Michael Collier and Robin Shahan (ISBN-13: 9789735697225). The download page is at the Microsoft Virtual Academy, and the book is available in PDF, EPUB, and Mobi formats. You can also read more about it on the MS Press blog for more details, if you're so inclined.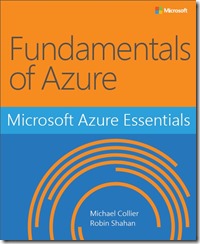 Here's the 10,000 foot view of what you'll find between the book's virtual covers:
1. A foreword from MS EVP of the Cloud and Enterprise Group, Scott Guthrie
2. An introduction to and overview of Microsoft Azure
3. Information on features of the Azure platform of greatest interest to readers, and how to put them to work
4. Walkthroughs on how to create VMs and virtual networks, websites, storage accounts, and more
5. Common tools useful in building and managing Azure-based services and solutions
6. Common business situations where Azure offers valuable and useful solutions
The primary audience for the book is IT professionals and developers new to cloud computing, who want to understand what Azure can do, how it does it, and the key services that the Azure environment delivers. The price is definitely right, and the coverage is spot-on for those looking to find their way into cloud computing, Microsoft style. If this means you, please check it out!