The introduction of Windows 8.1 and Windows Server 2012 R2 not only provides new grist for the certification mill, it also represents a major change in the way MS handles (and will handle) certification updates going forward. Senior Product Manager at MS Learning Erika Cravens offers a fascinating blog post on this subject at Born to Learn, and I dissect and analyze that post here in mine.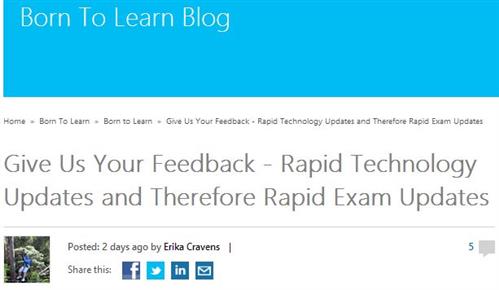 As shown in the screen cap above, the title of Ms. Craven's post is "Give Us Your Feedback -- Rapid Technology Updates and Therefore Rapid Exam Updates." In that post, she provides several useful and informative bits of information:
1. She explains the timeline that applied to introduction of updates to related cert exams (e.g. 70-687 and 70-688 for Windows 8 and 8.1, and 70-410, -411, and -412 for Windows Server 2012 and R2, among others). This includes FAQ updates 7 months prior to those updates, exam detail pages 3 months prior, and specific date information in the Born to Learn blog and exam pages themselves one month prior.
2. She explains that if MS changes exam content by more than 20 percent, they renumber exams, and goes on to state that "...the updates to the exams was purely based on things like terminology changes in the product and other changes found between versions, but it wasn't more than 20%". This is the first time I've heard this as an explicit policy -- in fact, as an explicit policy that is also easy to understand and appreciate.
3. She asks readers to respond to requests for more detail about what kind of training is necessary to help candidates prepare better for changing exams, and offers examples of free online training, while raising issues about classes, books, and e-learning. She also asks readers to help identify better ways to get informed about the timing and content of upcoming exam changes, so that candidates are unlikely to be surprised by their appearance on exams for which they've prepped long and hard.
Implicit throughout the posting is the idea that this new "rapid technology change" (something I've referred to here in this blog and elsewhere as a quicker product refresh cycle or a rapid update cadence) is the way things are going to work at Microsoft from now on. This does pose challenges for everyone in the cert biz, because it means more and more frequent changes to materials that -- like books -- can take months and months of effort to complete.
Reader feedback shows a high level of concern regarding access to study guides, Exam Crams, and other prep materials that are in synch with the exams, but complete enough to provide in-depth learning opportunities. This makes life interesting for publishers like Pearson (and Wiley/Sybex, Elsevier/Syngress, Osborne/McGraw-Hill, and anybody else who plays on this field), but it looks like it represents the way things must get done from here on out!