Microsoft released Windows 8 on October 26, 2012, to some fanfare. Since then, there's been considerable hoopla over the Windows 8 user interface, and its touch-oriented features and functions. But MS is still plowing ahead with various certifications built around its newest desktop OS -- most notably, the MCSA: Windows 8 -- controversy notwithstanding. And now, it looks like publishers of study guides for the exams involved in this credential are starting to catch up with the subject matter.
Most notably, this includes Don Poulton and Randy Bellet's upcoming book entitled MCSA 70-687 Cert Guide: Configuring Microsoft Windows 8. I've worked with Don myself on numerous IT cert related projects, and own a copy of his excellent book on exam 70-642 (Windows Server 2008 Network Infrastructure, Configuring). I can't help but believe his forthcoming title on this Windows 8 exam (it's due out in early September, 2013) will make a worthy addition to Don's considerable body of work, which also includes titles on Windows 7, Windows Server 2008 Active Directory, Windows Server 2012 Installing and Configuring, and lots more -- see this Amazon search for all the titles, which go back to Windows Server 2003 and Windows XP certification related topics.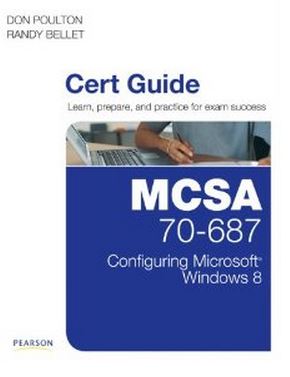 The Poulton-Bellet title on 70-687 makes a welcome addition to the fold.
In addition to Don's title on 70-687, I also see titles from MS Press (O'Reilly; already out) and Wiley (Sybex, due out September 23, 2013 -- also to cover 70-688 as well). Microsoft has official academic course books for both topics due out later this summer as well, but 70-688 is lagging somewhat behind. Even the MS Press (O'Reilly) title isn't due out until late July, and aside from the Wiley/Sybex title already mentioned, I don't see much else for this exam on the horizon.
This is unusual, because Windows 8 has already been out for over six months, and that's a typical gap between release of the exam and study guides or Exam Crams to match. This time around, it's taking up to three months longer than that to see tangible signs of competition. Windows Server 2012 is suffering from no such delay, however. Could it be that Windows 8's less-than-stellar reception in the marketplace is slowing the pace of certification books? Perhaps so, and if that's true it shows a major change in how publishers (and presumably customers, since that's who publishers serve) perceive the importance of certification on desktop versus server topics. I'd also argue that MS apparently sees things the same way as well, since very little desktop coverage persists past the MCSA level into MCSE and higher-level credentials amidst all of their many certification offerings.