Yowza! I came across an undeniably tasty item in trolling the Microsoft Born to Learn blog this morning. As of January 14, anybody with a Microsoft Certified Professional credential -- and that's anybody who's passed an exam that leads to MCSA, MCSE, MCPD, Microsoft Certified Technical Specialist, and everything else except exams for Microsoft Office Specialist (MOS) or Microsoft Technology Associate -- gets a pretty hefty discount through the Microsoft Press Store.

Check out the blog post for all of the particulars: "New MCP Member Benefit: Discount on All Microsoft Press Books." But if you are an MCP, you can confirm this for yourself by logging into your Learning Dashboard, then clicking the "Your benefits & exams" tap at the upper right of the page. Next click on the Resources tile, mid-page, and select "Microsoft Offers for MCPs" then click The Microsoft Press Store link that appears in the text below.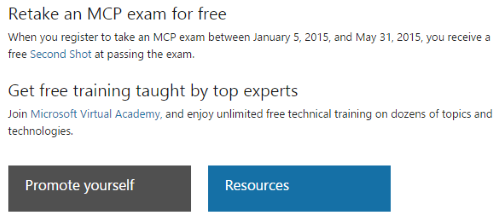 Clicking the "Resources" tile, then "Microsoft offers for MCPs" does the trick!

Wow! That's alotta steps. Is it worth the clicking involved? You betcha! That's where you learn to use the discount code MCPBOOK during checkout from the MS Press Store, which nets you a 50% discount on eBooks (digital only) and 40% off on print books (some of which also include digital formats as well).
That's worth a few clicks, if you ask me, but you can always just use the discount code when you check out, if you prefer. You will be asked to provide your Microsoft ID number, though, for proof of eligibility. You can get that from your transcript if you lost the official ID card or can't find your various certificates.